Luisa Fernanda with Placido Domingo at the Movies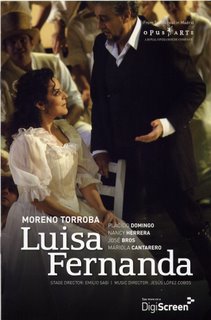 Opera fans are enjoying an embarrassment of riches these days. Since last season, the Metropolitan Opera in New York has been bringing its best productions live to selected movie theatres in the U.S., Canada, Europe, and on a delayed basis to Australia and Japan. The huge media attention and sold out houses at every showing amply demonstrated that there is an audience out there hungry for the opportunity to see live opera for a fraction of the cost of actually travelling to New York and paying big bucks for tickets. Despite being thousands of miles away from the Met, opera fans treat the events as "real occasions". And the older demographics of an opera audience is unusual - you won't find a quieter, more attentive or appreciative bunch. Unlike a typical teenage movie audience, opera folks have the money to buy more upscale foods, they aren't rambunctious, don't make a mess, don't chat incessantly or make noise, except to applaud the artists on the screen. For the opera companies and the movie theatres, it's a win-win situation.

With the enormous success experienced by the Met, other opera companies are jumping on the bandwagon. The venerable La Scala showed its opening night Tristan und Isolde at selected movie houses in Europe and the US; Opera Australia and San Francisco Opera are also experimenting with non-satellite digital transmissions on a delayed basis. But so far none of these are coming to Canada - with one exception. Teatro Real of Madrid, an "A" house in Europe, has been showing its products through a partnership of Opus Arte and Digiscreen in the Empire Theatre chain and four independent repertory theatres in Canada with little fanfare. I knew nothing about it until my publisher called to see if I could write a review. A quick e-mail secured two media passes to yesterday's performance of Luisa Fernanda, a zarzuela starring megastar Placido Domingo. It was showing at the Empress Walk 10 of the Empire Theatres chain in North York. It is a short stroll north from the Sheppard Grande, where the Met has been showing its operas. Compared to the Sheppard Centre, Empress Walk is newer, better maintained, nicely designed with plenty of concession choices for those who want to grab a bite or a drink. The cinemas are immaculately maintained, and the staff offering friendly and efficient service. There was even a washroom attendant at the door - I give the theatre chain an "A" for effort!

Fearing it would be another sold out event, I decided to show up an hour early to secure a good seat. I needn't have worried. Shockingly, the single cinema showing the opera was practically deserted, even with Placido Domingo on the playbill. The Met experiment has demonstrated that there IS an audience for opera at the movies. True - fans are always attracted to a live event, and the Teatro Real productions are "canned". And zarzuela isn't a particularly big draw in Canada since we don't have a large Hispanic population. Still, if the product is good, the fans will come out. It is clear that Empire Theatres have a great deal of work to do in the publicity department. There was no mention of this in the local newspapers that I could find. I did an informal survey of my many opera friends. Except for the three friends that actually showed up yesterday, none of my other friends were aware of this event. But then, neither was I two days ago!
I have to admit my knowledge of zarzuelas is limited, except to say that it is Spanish and folksy, highly romantic, full of pretty tunes and colourful costumes. The story of Luisa Fernanda is your typical love triangle, with tuneul, rather uncomplicated harmonies and orchestration. The piece is also short - even with a 20 minute intermission, the show was over in about two hours. According to a friend who was recently in Madrid, "local" zarzuelas don't always have the best singers, but with the great Domingo in this show, you can't do better than this! Afterall, he sang as a kid in a zarzuela company in Mexico ran by his parents! As Vidal Fernando, Domingo sang with his trademark burnished tone. Despite looking a tad mature, he could still conjure up the image of an aging romantic hero, in the vein of a Don Quixote. Opposite him was the excellent Luisa of Nancy Fabiola Herrera. This Canarian-born, American-trained mezzo is currently at the Met singing Carmen. Rounding out the cast is Spanish tenor Jose Bros. A high tenor in the tradition of a Juan Diego Florez, Bros looked a bit young to be the Colonel Javier Moreno, but his clarion tenor was a pleasure. If the musical values were high, the production itself was strictly budget-wise. The battle scene was reduced to a few silhouettes projected onto the backdrop, and until the last act, the only props onstage were two dozen white chairs, and a tiny wooden model of the city of Madrid sitting on the side! A saving grace was the conducting of the highly experienced Jesus Lopez-Cobos. The picture quality in this HD moviecast is better than the Met's satellite transmission - no glitches and the sound is better. I spoke to almost everyone at the cinema, and they all enjoyed it. So it is a shame that so few people turned out. With more publicity, I am sure opera fans will show up. I think it is important for opera lovers to show up to these events, to show our support. When the next show is announced, I'll be sure to mention it in this blog. Stay tuned!
>
More articles on HD Opera
Labels: Concert_Review, Empire Theatres, HD, Luisa Fernanda, Opus Arte, Placido Domingo, Teatro Real Madrid