Met in HD: Manon Lescaut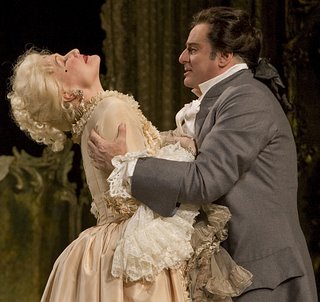 Puccini's third opera and his first major success,

Manon Lescaut

had its premiere in 1893. Although its popularity isn't quite on the same level of

Madama Butterfly

and

La Boheme

, this opera has earned a rightful place in the standard repertoire. For me, it represents verismo at its best. If you are a tenor fan, you'll love his four arias and the extended Act Two duet. And of course the title role has been a great vehicle for many a spinto soprano the likes of Tebaldi and Olivero. Indeed this piece demands great voices and strong stage personalities. I remember the last time the COC did it, the soprano (who shall remain nameless) was so singularly lacking in vocal allure and dramatic verisimilitude that the performance fell totally flat. The audience responded with the most tepid applause I've experienced at the COC. To be sure, great Manon Lescauts don't grow on trees. Even the Met had not staged this opera for eighteen years, the last time with Mirella Freni. So there was considerable excitement and interest over the current revival.

I am happy to report that the Met's revial is a triumph. First, it is cast from strength, with Finnish soprano Karita Mattila in the title role. Since her win in the first Cardiff Singer of the World Competition, Mattila has built her enviable reputation first in Mozart, then in the German and Slavic operatic repertoire, as a great Eva, Elsa, Jenufa, Katya, Lisa, Tatyana, Arabella, Salome, and Leonore. In more recent years, she also had success as Elisabetta and Amelia, and she is one of the most glamorous Hanna Glawari one is ever going to encounter on the opera stage. But Puccini? I was among the skeptics as to whether Puccini would be a good fit for her, since her Nordic sound with its cool timbre and relatively "straight tone" would not seem ideal in the "blood and guts" verismo genre. She defied the critics by singing Manon Lescaut in her native Finland to great acclaim in 1999, and more recently she has scored a triumph in this role in San Francisco and Chicago. Partnering her on this Met revival is Italian tenor Marcello Giordani, who is having a big season there as Pinkerton, Romeo, Ernani, and Des Grieux. Rounding out the cast is American baritones Dwayne Croft as the callous brother Lescaut and character baritone Dale Travis as Geronte.
Seen and heard on Saturday Feb. 16 at the Sheppard Grande, this

Manon Lescaut

proved to be another big success. Three cinemas were totally sold out, but I was told by Greg the manager that the upcoming

Boheme

is so popular that it will be shown in no less than four cinemas, and tickets are going fast. Unlike last season when the signal was hit or miss, the satellite feed this year is much more reliable. Other than a little problem with the subtitles at the very beginning, and a six-second glitch of distorted picture and loss of sound - thankfully occuring after "In quelle trine morbide"! - the transmission was flawless. I give credit to Sheppard Grande for being so organized when it comes to crowds. At intermission, theatre staff were positioned in strategic locations in the washrooms to ensure proper traffic flow. Cinemas were spotless, and the newly built concession a nice addition. However, the highly perishable sandwiches (chicken caesar wrap, tuna salad etc.) were sitting on the counter while they should instead be refigerated - a potential food safety issue.

This quarter-century old production of Manon Lescaut appears to have undergone some refurbishing. It still looks fine, with Act Two particularly sumptuous. With a live audience AND a movie audience, the balancing act to satisfy both can be tricky. In the house, one is used to large gestures so those sitting in the gallery can still see what is going on. Heavy make-up is the order of the day, lest singers' faces will look washed out to those sitting at the back. But such exaggerated acting and heavy make-up would look ridiculous at closeup, in High Definition no less! So I think both were considerably toned down for the benefit of the camera. At intermission, Mattila casually mentioned that she is 47. She remains remarkably youthful, but there is no point in pretending that she is the embodiment of a teenage Manon, especially when closeups cameras are so unforgiving when it comes to her wrinkled forehead. Still, all is forgiven when one encounters such exceptional vocalism. No, hers is not a particularly Italianate sound, but it didn't matter on this afternoon. Her two high Cs and loads of Bs on this occasion were thrilling. It made up for her relatively weak middle and lower ranges. Her Manon is also dramatically nuanced, vulnerable and sympathetic. As Des Grieux, Giordani may look a bit mature to be a young student, and his singing wasn't particularly elegant. But he was an ardent Des Grieux, with a completely secure high register. Act One was a bit slow - it always is in this opera, but gathered momentum in Act Two. By the last two acts, Mattila and Giordani burned up the stage and they received a well deserved ovation. American baritone Dwyane Croft was good if a little anonymous in the rather thankless role of Lescaut. Dale Travis, whom I saw last summer as an unimpressive Don Alfonso in a Santa Fe Cosi fan Tutte, was excellent as Geronte, a character role. Perhaps the greatest revelation on this afternoon was the conducting of James Levine. Not known as a Puccini conductor (despite his professed love for Puccini at the intermission chat), Levine's best work has been reserved for Wagner, Strauss and Verdi. So it came as a complete surprise how committed and involved he was in an opera he had not touched in more than twenty years. His conducting on this afternoon had all the passion and excitement one could possibly want, drawing torrents of sound from the orchestra at the climaxes.

There you have it. Perhaps not a Manon Lescaut for the ages, but overall a very satisfying performance on a wintry afternoon.

> Pierre Bellemare's review [in French]
Labels: Concert_Review, HD, Manon Lescaut, Metropolitan Opera, opera, Puccini