La Scena Musicale March 2008 Issue Online in HTML and PDF Formats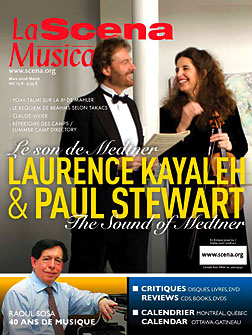 La Scena Musicale

's March 2008 print issue is now also online. The low resolution PDF, downloaded here, is viewable but not printable (subscribers have access to the printable version). We also bring back the HTML format of the issue; click on this page to view the contents of the English articles. There are more articles in French; be sure to click on the link to the French articles.

LSM's March issue features violinist Laurence Kayaleh and her recital partner, pianist Paul Stewart. Together, they are releasing a disc this month on the Naxos label covering the remarkable violin and piano works of the oft-neglected Russian master, Nikolay Medtner. This will be the second of two discs they have recorded with Naxos in as many years, and together, the two-disc set represents the complete output for violin and piano by Medtner. As part of Quebec City's 400th anniversary celebrations, the Orchestre symphonique de Québec will perform one of the most audacious orchestral pieces ever composed, Mahler's Eighth Symphony: OSQ artistic director Yoav Talmi shares his thoughts on this magnificent work in our Musician's Corner. Lucie Renaud sat down with Raoul Sosa, a Montreal-based pianist who is celebrating the 40th year of his career here in Quebec. A longtime piano teacher at the Conservatoire de musique de Montréal, Mr. Sosa has won a great number of awards and international recognition; he also remarkably overcame an injury to his right hand by exploring the piano repertoire for the left hand.

The guide for this month features summer music and arts camps: our comprehensive listings showcase a variety of programs that will take place across the country this summer.


Next LSM Benefit Event
Labels: LSM News