Royal Opera House in HD: Frederick Ashton's Sylvia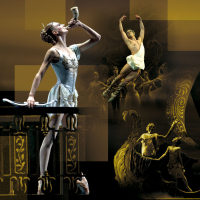 Given the wildly successful Metropolitan Opera at the Movies venture instituted by the visionary Peter Gelb in December 2006, other opera companies are jumping on the bandwagon. La Scala and San Francisco Opera have started their own series at selected movie houses in Europe and the U.S., and Opera Australia is rumoured to get in on the action soon. Sadly none of these shows are available in Canada.

But not to worry – the venerable Royal Opera House (Covent Garden) is bringing its products to Canadian movie theatres. In a joint venture among Royal Opera, Opus Arte, and Digiscreen, the best of opera and ballet from ROH are making their way to the Empire Theatre chain across Canada. It begins this coming Sunday (March 30), with a showing of the late Sir Frederick Ashton's Sylvia, starring the recently retired Royal Ballet prima ballerina Darcey Bussell. It will be followed by the terrific production of Carmen (April 19) starring the fabulous Anna Caterina Antonacci in the title role, and new tenor sensation Jonas Kaufmann as Don Jose. Other productions in the initial offering include three more ballets – Romeo et Juliette (May 24), Tales of Beatrix Potter (June 7) and The Sleeping Beauty (July 21). It appears that ROH is bringing its most popular and accessible shows, with the best singers and dancers, to its line-up. I have seen the Carmen and it really is a great performance - Antonacci and Kaufmann burned up the stage! It is not to be missed.
Yesterday I attended the press screening of Sylvia at the Empress Walk Theatre in North York. Like the Met shows, this ROH performance is in HD, although unlike the Met, everything in this line-up is pre-recorded. In fact this performance of Sylvia is several years old. Choreographer Sir Frederick Ashton first conceived this work for the Royal Ballet in 1951 as a one-act ballet for Margot Fonteyn. It was last performed in 1965. Shortly before his death, Ashton expressed the wish to revive this ballet. Royal Ballet's Christopher Newton recreated the ballet based on photographs and sketches in honour of Ashton. Now the role of Sylvia was taken by Royal Ballet's most famous ballerina, Darcey Bussell.
Set to a score by Leo Delibes, Sylvia is your typical Romantic ballet. Shepherd Aminta is in love with Sylvia, who accidentally kills him with an arrow meant for the God Eros, who in turn shoots an arrow into Sylvia. The upshot of this is her falling in love with the dying Shepherd. Meanwhile, the lecherous Orion kidnapped Sylvia for his harem, but she escapes. Eros brings Aminta back to life and the two lovers are re-united. The 1951 version by Ashton was only one act, but later he expanded it to three short acts. The screening yesterday was short and sweet, lasting only two hours, even with a 20 minute intermission. For the opera fans among us, this intermission is for wimps since we are used to sitting through long operas, like the marathon six hours of Tristan und Isolde the previous week, but never mind....
Taped some years ago, Bussell was at the height of her powers here as Sylvia. Her dancing has clarity, precision, and a luminosity that is of the highest order. Partnering her is the Aminta of Roberto Bolle, a fine dancer though somewhat below the level of Bussell. Thiago Soares is a macho Orion, while Martin Harvey is a rather precious Eros. Graham Bond's conducting is good if a bit anonymous, perhaps to be expected in this genre of ballet. The sets and costumes are expectedly sumptuous. Unlike the live Met telecasts which are by satellite and thus subjected to the vagaries of weather and other factors, these ROH shows are pre-packaged in hard discs sent to individual theatres. As a result, the picture and sound are flawless.
If there is one criticism, it is the dim quality of the picture. I am told that this is due to the limitation of the projection equipment. Still, I wish someone can explain to me - if a regular movie can be so bright that it is blinding, why are these telecasts , whether it is the Met or the Royal Opera, so dim? I was told by a theatre manager last year that the technology will catch up and everything will be different in a couple of years. For me, it can't happen soon enough. For now, we should be grateful that we can see these performances without having to travel acrosss the Atlantic. Yes, the lack of "real time" and intermission features mean it is less exciting than the Met telecasts. In fact, the performances offered by ROH are all available on DVD, but there is something to be said about seeing it in a huge screen that most of us cannot duplicate at home! So for now, I will be happily attending these shows.
Labels: Concert_Review, Darcey Bussell, Digiscreen, Empire Theatres, HD, Leo Delibes, Opus Arte, Royal Opera House, Sylvia