Wagner: Tristan und Isolde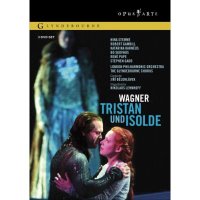 Nina Stemme, Robert Gambill, Katarina Karnéus, Bo Skovhus, René Pape, The Glyndebourne Chorus, London Philharmonic Orchestra/Jiřỉ Bělohlávek
Stage Director: Nikolaus Lenhoff
Video Director: Thomas Grimm
Opus Arte OA 0988 D (3 DVD : 238 min)

****** $$$$
Do you believe in magic? Can you venture into alchemy beyond the irrational idea that an herbal concoction can unleash suppressed emotions to entwine lovers in a deadly destiny? Are you ready for an enchanting illustration of the Schopenhauerian philosophy of, "Die to live," as presented in the most extreme example of the musical language of Richard Wagner? If inclined to the affirmative on these points then you will absolutely need to have this DVD set of the August 2007 production of Tristan und Isolde from the Glyndebourne Festival. It is nothing less than a collective act of sorcery delivering a definitive performance and a paradigm of the divine craft exposing opera as the ultimate art.
Wagner on DVD has been arriving in waves. Just over a year ago, we were inundated with rival versions of Lohengrin and Tannhäuser. Late in 2007, DG released a 1983 Bayreuth production of Tristan und Isolde (00440 073 4321). Conducted by Daniel Barenboim, it set a new and elevated benchmark for the work. The Glyndebourne set eclipses all that preceded it - even taking into account the brilliant staging and design of Jean-Pierre Ponnelle in Bayreuth.
The wizard-in-chief for this mighty achievement is Nikolaus Lenhoff. He employs a single set to represent shipboard, courtyard and castle in succeeding acts. The scenery consists of an enormous, stepped vertical vortex (designer Roland Aeschlimann refers to it as, "A spiral nebula."). Lenhoff dresses the stage in light for dramatic effect and in symbiosis with the music. The LPO is in razor-sharp form and Jiřỉ Bělohlávek establishes his Wagnerian credentials in the prelude. He proceeds through the score, which stretches tonality to the limit, with consummate skill. Hearing the orchestra at work makes one realize that only Wagner, musical genius and internationally recognized expert in blatant desire and the exploitation of human weakness could have created this opera. His conception of internalized drama and intimacy verging on eroticism generates a force to penetrate the subconscious when performed as well as it is here.
Tristan is a difficult opera to cast and Glyndebourne has been fortunate here. The American tenor, Robert Gambill studied for years in Germany and has decades of stage experience. With a fully developed heldentenor voice, his time has come to portray Tristan. Nina Stemme and Katarina Karnéus are sopranos from Sweden who take on the respective roles of Isolde and Brangäne with rare distinction. The ever-reliable darker voices of Bo Skovhus (Kurwenal) and René Pape (King Marke) complete the idiomatic circle of principal players. Exceptional though the vocals are the acting in such a high compression chamber is just as important. This is also a tribute to the stage direction but each of these artists has the gift of presence to bring the characters to life in front of us. Lenhoff's wise decision to use traditional costumes contributes to defining the roles as well as providing a contrast with the abstract set.
This performance dispenses stage magic in generous proportion and enthralls throughout. It can be confidently recommended as a first choice for the work on DVD. Its surpassing quality would also make it a suitable entry point for collectors new to Wagner. The set runs to three discs but includes two hours of useful extra features including a fine documentary by Reiner E. Moritz entitled, Can I Hear the Light?.
Please let us have more Wagner from Glyndebourne!
Nina Stemme at Large: Nina Stemme can be heard opposite Plácido Domingo in the EMI audio recording of Tristan und Isolde. She is also on view as another, and more vulnerable eponymous heroine in a Barcelona production of Leoš Janáček's Jenůfa (TDK DVWW-OPJENU). It is a stunning production and Stemme strikes sparks with her stage adversary played by Eva Marton. The drama is so intense that both shed tears on the platform. Watch this DVD and you will begin to understand why Janáćek is the most widely performed of all modern opera composers.
-Stephen Habington
Labels: glyndebourne, opera, product_review, wagner