Queen Elisabeth Singing Competition Finals Day 4 / Proclamation of Winners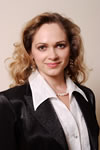 Tatiana TRENOGINA
Gioachino ROSSINI Inflammatus est [STABAT MATER]
Giuseppe VERDI È strano – Ah, fors'è lui – Folie ! Folie ! – Sempre libera [VIOLETTA – LA TRAVIATA] Richard STRAUSS September [4 LETZTE LIEDER – HESSE]
Ruggiero LEONCAVALLO Qual fiamma – Stridono lassù [NEDDA – I PAGLIACCI]
This singer seems to be the complete package - a lovely, bright silvery tone, coupled with model-like face and body, solid technique and innate musicality. Apparently she is married to a Belgian, studies in Brussels with Jose van Dam. With an expert - and highly influential - teacher like van Dam, and with great "material" like Trenogina, the end result is a singer to be reckoned with. If I were to nitpick, her stage personality is on the reserved side, a little remote. One doesn't get a feeling she is truly engaged with her audience; her interpretive power is also a little generalized. In any case, there is a real buzz about this singer and much is expected of her. She opened with Inflammatus, from Rossini's Stabat Mater. One was struck by the brightness and beauty of her tone. This is a short but treacherous piece, requiring great high notes and the power of a dramatic soprano. She sang it wonderfully, including two long-held C-sharps. A magnificent start to the program. Next came E strano - Sempre libera. I expected her to t"ace" this. Perhaps she oversang in the Inflammatus, she was good but not fantastic. She began very well, but slowly there were some intonation problems. For one thing, her high pianissimi broke three times - ok, this can happen to any singer. But often it is because the voice is over-extended. Perhaps because of that, she didn't sing the high E flat at the end, a big surprise. Verdi didn't write it, but most sopranos with a good top llike hers sing it. Given her facility at the top, surely it was within her grasp and I am willing to bet she intended to sing it. This was followed by Strauss's September, the second of the Vier letzte Lieder, a real test to the top register. Her high notes were fine but the middle voice was unexpectedly a little tremulous. Again, maybe she gave too much to open the program, and an introspective piece like this requires a reigning-in of her resources. Often singers find this change of pace, from singing big to singing small, difficult. The other way around seems to be easier? Putting Nedda's aria at the end was again a surprise - one would have thought the Violetta's scena would be put at the end. Given her personal beauty, she is a totally believable Nedda. Once again, her high pianissimo had a slight glitch. But overall, it was a very fine performance.


Gabrielle PHILIPONET
Carl Maria von WEBER Einst träumte meiner sel'gen Base – Trübe Augen [ÄNNCHEN – DER FREISCHÜTZ]
Francis POULENC Non, Monsieur mon mari [THÉRÈSE – LES MAMELLES DE TIRÉSIAS]
Richard STRAUSS Amor [6 LIEDER OP.68 – BRENTANO]
Jules MASSENET Suis-je gentille ainsi ? – Je marche sur tous les chemins – Obéissons – Profitons bien de la jeunesse [MANON – MANON]
Gaetano DONIZETTI Ah! Tardai troppo – O luce di quest'anima [LINDA – LINDA DI CHAMOUNIX]
Philiponet is a high coloratura soprano with a flexible voice and a vivid stage personality. I can imagine her as a perfect ingenue, a soubrette, as Zdenka, Fiakermili, Norina, Adina, Oscar, Sophie, Soeur Constance, etc. The timbre is reminiscent of a young Beverly Sills, or perhaps Roberta Peters - a little thin but lovely, especially in lower dynamics. Her fortissimo has a tendency toward edginess and a loss of focus and purity. Her strength -beside a beautiful voice - is her strong communicative power. She engages the audience in her performance - this can be quite rare among singers today. Most singers at this level tend to be a little remote or shy onstage. There is nothing remote about her! She can even be accused of over-acting, as Therese in Les Mamelles. Maybe, but given the piece, overacting is perfectly appropriate! She began with Annchen's aria - a beautiful aria but rarely programmed, perhaps because Aanchen, like Blonchen, is almost always identified as a soubrette. But this aria allowed her to act it out, which she did vividly. The vocalism is very fine, a couple of high notes going sharp notwithstanding.
The Poulenc aria was fun, dramatic, but also a little shrill. This aria played to her strength - her dramatic and communicative power. Ultimately it won me over, despite the occasional edgy and shrill tone. Strauss's Amor is along the same line - bright and lively. Her style and voice in this piece really reminds me so much of Beverly Sills, whom I heard in this. She ended with the Gavotte from Manon. Again, her top can sound pure in one instance and unfocused the next. She even threw in a few interpolated high notes, the audience got so excited that they started applauding before the second stanza, andthen again before the third stanza! This is so unusual since European audiences are generally too knowledgeable and disciplined to do this. In any case, they loved her and she recived an exceptional ovation. She ended with Linda di Chamounix, showing no sign of fatigue after such a heavy program, a testament to her conditioning.
Bernadetta GRABIAS
Francesco CILEA Acerba volutta, dolce tortura [PRINCESSE DE BOUILLON – ADRIANA LECOUVREUR]
Gioachino ROSSINI Cruda sorte – Qual chi vuol [ISABELLA – L'ITALIANA IN ALGERI]
Jules MASSENET Va! Laisse couler mes larmes [CHARLOTTE – WERTHER]
Giuseppe VERDI Liber scriptus [REQUIEM]
Wolfgang Amadeus MOZART Non so più cosa son, cosa faccio [CHERUBINO – LE NOZZE DI FIGARO] Pyotr TCHAIKOVSKY Da, tchas nastal [JEANNA – ORLEANSKAÏA DIEVA (THE MAID OF
ORLEANS)]
I have to say it was strange to follow a high coloratura with a low mezzo. That's exactly Ms. Grabias' fach - a dramatic mezzo who is also capable of an upward extension. She also has a very strong technique. Throughout her program, there was never a moment of uncertainty. She also has good agility. If there is anything missing, it would be a true sense of humour. She sang one "light" piece- Cherubino's aria, but not too convincingly. To be honest, I can't say I am fond of her timbre. There isn't a whole lot of variations in tone colours; as a result, her singing tends to be rather monochromatic. I am of two minds about her concert gown.
Bursts of silver flowers down one shoulder and splashes across her skirt - a dramatic statement to be sure. I suppose it matches her dramatic mezzo fach. A
ppropriately she chose a verismo piece to open - Princess de Bouillon's short sturm und drang outburst from Adriana Lecouvreur. Nobody can say this is a great piece of music, but as a set piece, it can be effective, with the fanfare horns at the end. Grabias sang it well.
Cruda sorte next. She has the coloratura and the technical requirement - if only her timbre is more beautiful. But then it's a very individual thing, as the audience loved her.
Charlotte's Va! Laisse couler mes larmes, a more subtle piece, which she sang quite beautifully, but the audience gave it only lukewarm reception. It really underscores the fact that the public always respond more to loud music!
Liber scriptus as a set piece is extremely unusual, but Grabias' voice is perfect in this oratorio. She ended it with the aria from
Jeanne D'Arc, strongly, beatufiully sung, with great dramatic conviction and complete technical assurance. The audience loved it. All I can say is, if she had a more beautiful voice, she will be on the podium for sure.
The competition came to an end at this point. The organizer/host paid tribute to the orchestra under the excellent conducting of Kazushi Ono. He was interviewed and was asked repeatedly about himself, but to his credit, he refused politely to talk about hmself, his future plans (taking over at Lyon Opera), but spent the minutes giving advice to the singers. Telling them not to be disappointed if they didn't win. The real test is how their careers go in the next ten years. A really modest, selfless thing to do. Bravo Maestro!
Labels: Bernadetta Grabias, Concert_Review, Gabrielle Philiponet, Queen Elisabeth Singing Competition, Tatiana Trenogina