Queen Elisabeth Singing Competition May 2008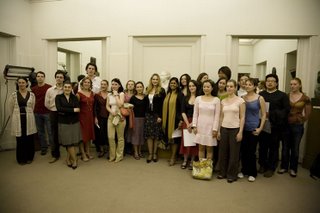 For voice fans, there is nothing quite like a good old vocal competition. Here is where one discovers hidden talents, the diamonds in the rough, the "finished product", and the soon-to-emerge stars of tomorrow. And when you have a competition the calibre of the Queen Elisabeth's in Belgium, it really is a voice aficionado's dream. So far, we have had the First Round and the Semi-finals. There is still time to follow the Finals starting Wednesday - don't miss the excitement!


While there are many terrific competitions around the world - including the Montreal International Competition (vocal edition), in terms of scope, number of participants, prestige, and opportunities for future employment, few can match the QE. In fact, I would put Cardiff and the QE as being tied, at the highest level of excellence. Even the venerable Met Auditions is not truly global because it is limited to the Americas, primarily US and Canada. Others like the Hans Gabor, Operalia, or the Queen Sonja, are fine, but again their impact don't measure up to Cardiff and the QE. The QE in particular has been good to Canada, since it launched the career of contralto Marie-Nicole Lemieux. (Incidentally, Operalia 2008 will take place in Quebec City in September. Stay tuned!)


Back to the QE. It is taking place as I write, in Brussels, from May 8 to 24. 83 candidates from 31 countries were invited to the first round (May 8 -10), including 6 each from Canada and Poland. Interestingly, the USA only have 2 singers and none from Australia, usually a strong country in singing competitions. The country with the most number of candidates is Korea (15), followed by France at 8, and then it is Canada and Poland at 6 each. There are 60 women and 23 men, 46 sopranos, 14 mezzos, 2 countertenors, 6 tenors, 13 baritones, and 2 bassos.
Not everyone invited showed up. Only 71 of the 83 invited decided to come to Brussels. Among those absent are two Canadians, sopranos Marianne Fiset and Marie-Eve Munger. Both were on the announced list but did not compete. The remaining four Canadians are baritone Cosimo Oppedisano, mezzo Michele Losier, baritone Philip Carmichael, and soprano Layla Claire. Each candidate in the First Round performed two works from opera, oratorio, or lieder or song repertoire, totaling 15 minutes.
You can still listen to the completed rounds on demand from the RTBF website at
http://www.rtbf.be/podcast/montre/index.htm?th=24
Videos of the semi-finals are also available, from
http://www.cmireb.be/en/p/2/8/74/77/semi-finalists.html
Click on "Watch and Listen" on the right side of the homepage.
Twenty-four singers survived the First Round into the semi-finals. Out of these 24, 12 are now in the final round: Elizabeth Bailey, sop. (UK), Szabolcs Bricker, ten. (Hungary), Layla Claire sop. (Canada), Isabelle Druet mez. (France), Bernadetta Gravias, mez. (Poland), Yuri Haradzetski ten. (Belarus), Anna Kasyan, sop. (Georgia), Changhan Lim, bar. (Korea), Michele Losier mez. (Canada), Gabrielle Philiponet, sop. (France), Tatiana Trenogina sop. (Russia), and Jung Nan Yoon, sop. (Korea). From listening to the live streaming, it is clear that the standards are extremely high. All the voices are good, with a number that are truly wonderful and destined for fine careers. There will be four days of finals, starting May 21. Each candidate will sing four to six selections, accompanied by the Orchestre symphonique de la Monnaie with Kazushi Ono conducting. You can listen and watch the live webcast by going to
http://www.cmireb.be/en/p/2/8/13/22/final.html
and click on Watch and Listen to the right.
In the semi-finals (May 12-14), each singer performed three to six pieces with a maximum of two by the same composer. There was an imposed work, Canzone, composed for the occasion by Wim Hendrickx. It is typically a modern piece, but tonal and vocally "grateful". It is interesting to hear the different interpretations by the contestants. Some chose to commit it to memory, and from my experience of attending past competitions, a singer willing and able to memorize the piece on short order - and singing it well, of course - stands a good chance of winning the prize for interpretation of the imposed work. A case in point is Greek-Australian sopano Elena Xanthoudakis, who won the interpretation prize and Fourth Prize at the Montreal Competition in 2005. A quick study, she sang the piece from memory, impressing the judges and the audience.

I generally agree with the choices of the twelve finalists. Interestingly, two of the six tenors entered made it to the finals, a success rate of 33% - the world always want more tenors! By contrast, 6 sopranos out of 46 made it - a success rate of only 15%. Similarly, only 1 out of 13 baritones made it. I must say there were a few singers whom I felt were good enough to be in the finals but sadly didn't make it. I was particularly fond of Sri Lankan soprano Kishani Jayashinghe, who has a gleaming, powerful voice, great long breath line, and excellent musicality. The only thing missing perhaps is a sense of humour - her Adina's aria from L'Elisir d'amore lacked sparkle. She was a finalist at the 2006 Kathleen Ferrier competition and is in the Covent Garden Young Artists program. I think she will go far. It is important to remember that not making the finals doesn't mean a singer is not good. So much is dependent on the individual taste of the jury panel, and there is always the possibility of politics, although this is difficult to prove. At this level of competition, jury members tend to look for the finished product. Often, a great voice that is unfinished coupled with ordinary stage presence or preparation may be bypassed in favour of someone with a good voice but in possession of excellent stage presence and attractive physical appearance. Without naming names, I can say there is a baritone in this competition who has a wonderfully strong amd rich if still somewhat rough baritone, and his stage appearance needs work - a better suit would help! He was passed over by the jury in favour of another singer who has a beautiful, well controlled, technically accomplished, smooth lyric baritone, combined with a handsome face, slim physique, and altogether a more polished "package". Modern audiences demand believability, and unless one has a voice the likes of Pavarotti or Sutherland, an attractive, slim singer will always have an advantage, such is the reality of the opera world these days.

Finally, a few words about the jury panel. QE is known for star-studded jurors, but this edition is simply amazing - imagine on the same panel Martina Arroyo, Lella Cuberli, Raina Kabaivanska, Tom Krause, Ann Murray, Anna Tomowa-Sintow, Jose Van Dam, Brigitte Fassbaender, and Helmut Deutsch! I would love to be a fly on the wall during the deliberations!
Good listening!
Labels: Belgium, Concert_Review, Queen Elisabeth Singing Competition, voice