Queen Elisabeth Singing Competition Finals Day 1
We have reached the home stretch - twelve finalists spread over four evenings. The first session took place on May 21, with three candidates - soprano Elizabeth Bailey (UK), baritone Changhan Lim (Korea), and tenor Szabolcs Brickner (Hungary).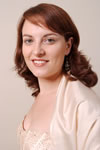 Elizabeth BAILEY
Vincenzo BELLINI Eccomi in lieta vesta – Oh! Quante volte [GIULIETTA – I CAPULETI E I MONTECCHI]
Gaetano DONIZETTI Ah! Tardai troppo – O luce di quest'anima [LINDA – LINDA DI CHAMOUNIX]Wolfgang Amadeus MOZART Et incarnatus est [GROSSE MESSE IN C]
Leonard BERNSTEIN Glitter and be gay [CUNEGONDE – CANDIDE]



La Monnaie/De Munt Symphony Orchestra - Kazushi ONO, conductor


The proceedings certainly got off to a fine start with Bailey, who looked lovely in a cream-coloured, tight bodiced gown with flared skirt. She also looked poised and calm throughout. Hers is a high soprano, with a fine upper extension - much like the early Natalie Dessay. High F's pose no terror for her. Her Bellini showed lovely cantilena singing. The tone is bright, if a little limited in colour. This was followed by the aria from Linda di Chamounix, which showed more sparkle, with extra interpolated high notes thrown in. If there is a fault, it is her lack of a truly solid trill to go with her agility and upper extension. As Sutherland would say - you are either born with it (a trill) or you are not! Bailey even interpolated a high F sharp - impressive! The third piece was from Mozart's Grosse Messe. It is a long aria that requires a great range (including low notes) This piece showed her weakness - she had to struggle to keep her legato line steady, especially in the beginning, and the very long phrases caused her breathing to sound a little laboured. One wished for a more solid intonation. The lowest note gave her a great deal of trouble - it simply didn't sound. Overall, I would say this was her weakest piece of the four. She ended with Bernstein's Glitter and be Gay - always an audience favourite, and she sang it very well indeed. Her English diction was not ideally clear, but this is par for the course in high sopranos. She was able to sustain this very long piece nicely, pulling out all the stops for a blazing finish. The audience was certainly behind her all the way. Surprisingly she did not sing a French piece - this is Belgium afterall! But overall it was very well done.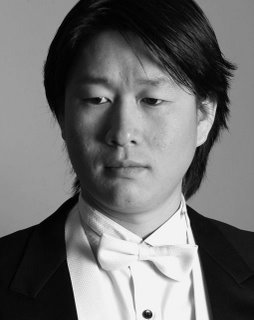 Changhan LIM





Charles GOUNOD Oh sainte médaille – Avant de quitter ces lieux [VALENTIN – FAUST]Giuseppe VERDI Per me giunto – O Carlo ascolta – Io morrò ma lieto in cuore [RODRIGO – DON CARLO]




Maurice RAVEL Chanson romanesque [DON QUICHOTTE À DULCINÉE – MORAND]Gioachino ROSSINI Sois immobile [GUILLAUME TELL – GUILLAUME TELL]Jules MASSENET Ce breuvage pourrait me donner un tel rêve – Vision fugitive [HÉRODE – HÉRODIADE]


This Korean baritone has a smooth, well-trained lyric baritone of ingratiating timbre. It is a compact voice, beautiful but perhaps lacks that true Verdian baritone flavour. He began well, with Valentin's aria. But immediately one noticed the voice was a little underpowered - at climaxes, it does not bloom. The top is beautiful, the bottom a little on the weak side. I felt he sang very well, although the audience response was lukewarm, especially when compared to Bailey. Carlo's aria from Don Carlo also went well, with nicely controlled singing, with a nice diminuendo. He looked very handsome in the traditional tuxedo, but his stage manner was decidedly restrained. He didn't play to the audience, which perhaps explained the rather polite but tepid response. He deserved a bigger ovation. His Don Quichotte song was short, with very good French. In fact, I would say his French is among the best of all the non-French contestants. His last piece, Vision fugitive from Herodiade, is a beautiful piece that requires a voice of real impact and a reserve for the climax. He unfortunately he ran into trouble. Everything beautiful until the high note near the end when he suffered a most unfortunate crack. He didn't come to a dead stop, but the tone turned sour. Too bad, as he is a very fine singer, very musical and he deserved a better fate. I think he was pushing his voice too hard to make a bigger sound, and sometimes it just doesn't pay off. He recovered well and the audience was sympathetic, but I am afraid the damage was done.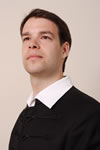 Szabolcs BRICKNER
Giacomo MEYERBEER Pays merveilleux – Ô, paradis sorti de l'onde [VASCO DE GAMA – L'AFRICAINE]
Benjamin BRITTEN Royauté [LES ILLUMINATIONS – RIMBAUD]
Gustav MAHLER Revelge – Um Mitternacht [7 LIEDER AUS LETZTER ZEIT – RÜCKERT]
Giuseppe VERDI O, figli – Ah, la paterna mano [MACDUFF – MACBETH]
Pyotr TCHAIKOVSKY Kuda, kuda [LENSKI – EVGENY ONEGIN]
Of the two tenors in the finals, I have to say I prefer Mr. Brickner over Haradzetski from Belarus. Brickner has a nicer timbre and better technique. That said, the voice has some inherent limitations. Among the three singers tonight, he pushed his voice the most; and his vocal production is too open-throated especially in the middle and upper middle, although not as open as Mr. Haradzetski. The tone is also a little on the thin side - one wishes for a rounder sound. He opened with "O paradis" - very careful with the high notes. This was followed by a short, piece from Britten's Les illuminations, which he sang vividly. Then it was two selections from Mahler's Ruckert Lider. Revelge is a veritable tour de force, and he sang it well, bringing out the "neurotic" nature of this piece by giving a really committed, dramatic reading of a difficult song. His flat-out singing without holding anything in reserve makes for somewhat uncomfortable listening - this is also true in the Macduff's aria. Nice, but one got the feeling he was singing with his capital, not his interest. His last piece, Lensky's Kuda, kuda, together with the Britten, were probably his strongest pieces. Here in Kuda, kuda for once, he had to sing mezza voce, but he didn't sound all that comfortable singing in half voice. Still, he gave a nice rendering of this most beautiful aria and received a strong ovation. This tenor shows promise but he needs not force his voice so much.

There was no clear winner tonight, but if I had to pick one, I would give the nod to Elizabeth Bailey.



On the Web


> Queen Elisabeth Competition
Labels: Belgium, Changhan Lim, Concert_Review, Elizabeth Bailey, Queen Elisabeth Singing Competition, Szabolcs Brickner