Canadian First: Québec City Hosts Plácido Domingo's Operalia
Report by Paul Robinson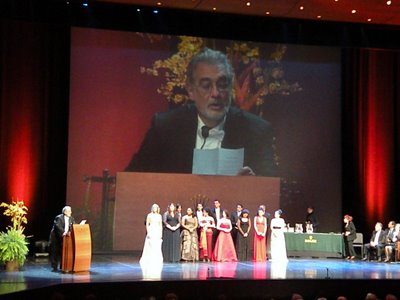 Plácido Domingo
put
Québec City
on the world operatic map when he brought his Operalia 2008 to town.
Operalia
is a vocal competition which has taken place annually for the past sixteen years in great musical capitals such as Paris, Madrid, Hamburg,
Los Angeles
and Tokyo.
Although Domingo is involved in many projects – heading opera companies in Los Angeles and Washington among them – Operalia is obviously very close to his, and his family's heart. In Québec City, Domingo conducted the final concert of the competition; his wife Marta was a member of the 13-person jury; the
Hymne
performed by the contestants en masse was composed by Plácido Domingo Jr.; and the film
Operalia 1993-2008
was directed by his son
Alvaro
.
Operalia Jump Start to Fame & Fortune for Fabulous Few
Operalia was conceived as a way to help young opera singers advance their careers and it has succeeded in doing just that. Prize winners over the years have included the likes of
Rolando Villazon
(1999),
José Cura
(1994),
Elizabeth Futral
(1995), Canadian soprano
Isabel Bayrakdarian
(2000), and
Kate Aldrich
(2002) heard as Adalgisa in Norma at Festival Bel Canto 2008 in Knowlton, Québec.
This year's competitors were typical. They were in their early to mid-twenties and virtually all of them have completed their vocal training and have embarked on professional careers; what they need now is wider recognition to take them to the next stage.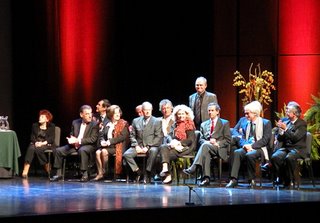 The Operalia jury is comprised of people in a position to lend winners a helping hand. The jurors selected are often administrators of opera houses - among the members this year were Peter Katona, artistic director of the
Royal Opera House
, Covent Garden; Ioan Holender, head of the
Vienna State Opera
; and Jean-Louis Grinda, director of the
Monte Carlo Opera
.
There are three main prize categories in Operalia: male (US$30,000/20,000/10,000); female (US$30,000/20,000/10,000) and
zarzuela
(US$10,000). This last category is unique to this competition and honours the fact that Domingo's parents were both zarzuela singers and he grew up working in their touring company in Mexico.
Scope of Operalia Global: Many Apply; Few are Chosen
Nearly 1,000 singers apply to Operalia every year. On the basis of audio and video audition tapes, 40 contestants were invited to come to Québec. There was a quarter-final round and then a semi-final round held between September 18-21. After these preliminaries, 14 finalists remained and each one sang an aria at a concert on September 24, with Domingo himself conducting the Orchestre symphonique de Québec (OSQ).
This final concert, at which the winners were announced, was held at The
Grand Théâtre de Québec
, and the hall was filled to capacity. Microphones (CBC Radio 2 and Espace musique) and cameras (the European television arts channel Mezzo) were abundant. After the singers had finished their performances, the jury returned their verdicts.
Among Winners this Year - Mexico, Puerto Rico, the Ukraine, and Georgia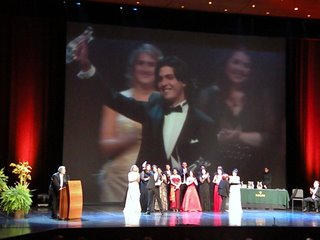 At Operalia 2008, first prize for male singer went to tenor
Joel Prieto
. Prieto was born in Puerto Rico and is currently a member of the
Deutsche Oper Berlin
. For the competition he sang "Una furtive lagrima" from Donizetti's
L'Elisir d'amore
. From the outset it was clear that he had one of the most beautiful lyric voices of all the competitors. Apart from some intonation problems, he sang very well. He was even better in his zarzuela aria and also won a prize in that category.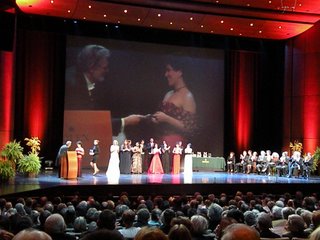 Among the women, Mexican-born soprano María Katzarava emerged the winner with a stunning performance of "Amour, ranime mon courage" from Gounod's
Roméo et Juliette
. Ms. Katzarava studied with
Ramón Vargas
and is a member of the young artists program at the Los Angeles Opera.
Outstanding amongst the other finalists, were Ukrainian soprano Oksana Kramaryeva who demonstrated exceptional dynamic and dramatic range in "Ritorna vincitor" from
Verdi
's
Aïda
. Like Prieto, she walked away with two prizes: second prize in the female category and sole winner of the audience prize.
Zarazuela –Bel Canto "con Salsa"?
A total of four singers were awarded prizes for zarzuela performance, each receiving US$10,000. My favourite was Georgian mezzo-soprano
Ketevan Kemoklidze
who sang the bouncy and colourful "De España vengo" from
Pablo Luna's
El niño judío
.
More power to Domingo for championing zarzuela throughout the world; its popularity has long been confined to Spain and Spanish-speaking countries, but the repertoire is full of wonderful music that transcends language barriers.
For the singers who were fortunate enough to win cash prizes at the competition and catch the attention of some important opera directors, success may well lead to further recognition. As Operalia literature states,Domingo is committed to personally mentoring the prize-winners as they work to develop their talent and make crucial career decisions.
Supernova Sheds Light on Rising Stars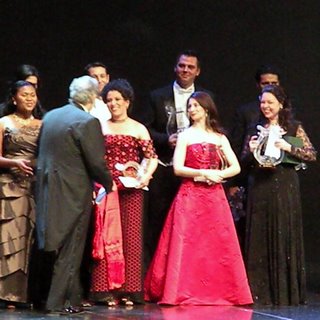 The stars of the evening were rightly the contestants; that said, Domingo's contribution, not only as MC, but also as music director, was immeasurable. Few conductors could have shown such mastery in such a varied repertoire and fewer still could have provided the detailed and sympathetic support these young artists needed to give their best. Kudos also for the musicians of the OSQ who played superbly.
At age 68, Plácido Domingo may be approaching the twilight of a fabulous singing career but as conductor, administrator, teacher and mentor he appears to have the energy and dedication of a man half his age.
Operalia 2009 will be held in Budapest, Hungary.
Paul E. Robinson is the author of
Herbert von Karajan: the Conductor as Superstar
, and
Sir Georg Solti: his Life and Music
. For more on Paul E. Robinson please visit his website at
http://www.theartoftheconductor.com/
.
Labels: Concert_Review, Operalia 2008, Placido Domingo, Quebec City