Met in HD: Salome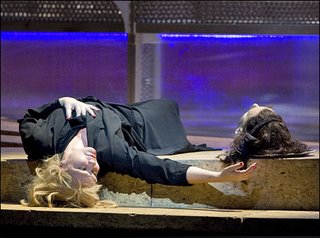 Karita Mattila as Salome frolicking with the head of Jochanaan in the Final Scene
Photo: Marty Sohl
Following the glittery opening gala with Renee Fleming, the Met in HD season came up with a real blockbuster - Karita Mattila in the title role of
Salome
. The Finnish soprano created a sensation at the Met in 2004 when she took it all off at the end of the Dance of the Seven Veils. Reportedly videotaped for telecast at the time, it never made it to the home screen, nor anywhere else for that matter. Given that nudity is such a big deal in America - remember the Janet Jackson "wardrobe malfunction"? - perhaps one shouldn't be too surprised that management had cold feet.
So when it was announced that the 2008-9 Met in HD season included a reprise of Mattila as Salome, I for one was curious to see how the Met would handle the nudity issue. Peter Gelb announced beforehand that there would be
no
nudity shown to the movie audience. The opera house audience, on the other hand, got to see a split second of Mattila in the buff, before attendants hastily wrapped her up in a black robe. For a nanosecond, the cinema audience caught her bare back, before she turned around coyly covering her bosom. The camera lens then discreetly switched to focus on something much less interesting. Frankly, what's the big fuss all about? Afterall this is the 21st Century, and nudity in opera is old news! Both Deborah Voigt and Catherine Malfitano as Salome took it all off, albeit with a flesh coloured body suit. Maria Ewing did them one better, ie.,
no
body suit. Just last July at the Munich Opera Festival, I saw Angela Denoke sang a good five minutes or longer completely topless, and the audience didn't blink an eye....
What of the actual performance? In a single word - stupendous. Mattila fully embodies Salome musically and dramatically. Strauss was quoted as saying the ideal Salome should have the body of a 16 year old and the voice of an Isolde. No fortysomething can be expected to look like a teenager, and Mattila, now considerably more
zaftig
than four years ago when she last sang the Judean princess at the Met, certainly does not. It makes no difference - one is blown away by her total commitment to the role. I have never seen a more fearless and unselfconscious Salome. She was not shy to show off her flexibility, at one point doing the split like she did in Manon Lescaut last February. At one point in the Dance, with Mattila being hoisted by chorus boys, I felt like I was watching a Broadway musical. There were no holding back vocally by Mattila either. This kind of " singing with one's capital" is a little worrisome, but the voice is in such remarkable shape that there's never any fear that she would not make it. Her Salome was a complex and endlessly fascinating mix of the worldly and the naive, the calculating and the innocent. It was a performance for the ages.
Others in the cast rose to the occasion as well. I was particularly impressed with the Herod of Kim Begley, who sang the role with more beauty of tone than I have encountered previously. Herod is one of those roles often assigned to long-in-the-tooth tenors in the downside of a career, so it was good to hear it
sung,
not yelled. However at one point he did sound tired, but fortunately, a long rest during the Final Scene allowed him to rally and end impressively. Finnish bass-baritone Juha Uusitalo used his burly voice and equally rugged appearance to good effect. Canadian tenor Joseph Kaiser was a clarion-voiced and unusually involved Narraboth in his several scenes with Mattila. Dressed to kill, Hungarian mezzo Ildiko Komlosi did well in the thankless role of Herodias. All the smaller roles were well taken. The conducting of Patrick Summers was impressive, bringing out all the fire and brimstone in the score while not overlooking the quieter, truly spine-tingling moments. His conducting here was equal to the spectacular
Salome
I saw with Kent Nagano last July. The "updated" sets and costumes are sort of par for the course when it comes to Regietheater productions these days, although some of the action contradict the text. The ending has an unusual twist - when Herod commands "Kill that woman", Salome willingly submits to the sword.
Because it was a single act piece, there were no intermission features, only a short intro by Deborah Voigt. I thought it was a little bizarre that Mattila didn't respond at first to attempts by Voigt for a pre-curtain interview - was this real or a set-up? In any case, I don't blame Mattila- who wants to talk moments before singing such a grueling role? I saw the show at the Cinema #1 Scotiabank Theatres in downtown Toronto. Everything went off without a hitch. Next up -
Doctor Atomic
with Canada's own Gerald Finley on November 8th.
Labels: Concert_Review, Karita Mattila, Met in HD, Salome