Yannick Nézet-Seguin: Young Montreal Maestro New International Star!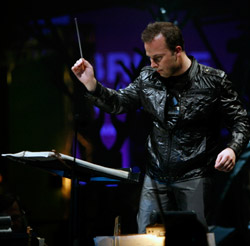 Review by Paul E. Robinson
For the past few years I've been hearing more and more about the extraordinary talent of Montreal-born conductor Yannick Nézet-Seguin: he's been given appointments by the London Philharmonic and the Rotterdam Philharmonic; this past summer he debuted at the Salzburg Festival leading Gounod's
Roméo et Juliette
with Netrebko and Villazon in the title roles; he's made a series of fine recordings - and he's only thirty-two!
I finally caught up with Nézet-Seguin this week in Montreal to watch him conduct his
Orchestre Métropolitain du Grand Montréal
(OM). I came away convinced that Nézet-Seguin has the potential to become one of the most important conductors of his generation.
Nézet-Seguin has been artistic director of the OM since 2000. This is Montreal's second orchestra, behind the more famous Orchestre symphonique de Montréal (OSM); it has its own following, and a large one at that.
Orchestre Métropolitain du Grand Montréal Totally in Tune
Orchestre Métropolitain du Grand Montréal was formed in 1981 by graduates of Quebec conservatories and music faculties. It gives about seven concerts a year at Place des Arts - also the home of the OSM - but it also plays in churches in the greater Montreal area and serves as the orchestra for the
Opéra de Montréal
in several productions a year. On this occasion, I heard the OM in the Salle Wilfred-Pelletier, the large hall at
Place des Arts
in a program of music by Ravel, Berlioz, Rachmaninov and Mussorgsky.
Watching Nézet-Seguin open the programme with Ravel's
La Valse
, I was struck by his energy and enthusiasm. There are a lot of moving parts when he conducts, but there is little wasted movement. He has the ability to keep his players on the edge of their seats and make them respond to his every wish. To put it another way - as the musicians used to say about
Toscanini
– "when he looked at you, there was no way you couldn't do exactly what he wanted".
Nézet-Seguin has that special leadership quality that allows him to take charge and carry his players along with him. By the end of the concert it was obvious that not only was he able to lead them with authority but that they loved the leadership he was providing. No doubt about it - this man is a born conductor.
Maestro Nézet-Seguin received most of his musical education at the Conservatoire de musique du Québec, but he also studied conducting with Carlo Maria
Giulini
. Physically they are very different types, but one can see the Giulini influence in the discipline of Nézet-Seguin's gestures and in the intensity he projects to the orchestra.
Programming with a Purpose: Bold & Imaginative
In programming Ravel's
La Valse
at Place des Arts, Nézet-Seguin was taking a chance. After all, his orchestra is really too small – not enough strings – and the walls are still resounding with Charles Dutoit's near-definitive performances with the OSM. Dutoit has been gone for several seasons, however, and Nézet-Seguin and his players showed that if they could not be lush, they could be accurate and exciting. There was purpose to this programme. To open the concert, we had
La Valse
; then, to end the concert, we had the Ravel orchestration of Mussorgsky's
Pictures at an Exhibition
. Nézet-Seguin wanted to show his audience what Ravel the composer could do, before they heard Ravel the orchestrator. Not bad at all!
Two Voice Version Perhaps not the Best for Berlioz Song Cycle
After
La Valse
came Berlioz' song cycle
Les Nuits d'été
in a somewhat unusual version - for two singers instead of one. As it happened, soprano
Marianne Fiset
took ill and could not perform on the previous night and so at that concert, Les Nuits d'été was presented with only one singer, mezzo-soprano
Julie Boulianne
.
It was apparent at the performance I heard, that Fiset was still somewhat out of sorts, but we did get to hear the cycle divided between two voices as scheduled. To my mind, it would have been helpful to have some explanation in the programme as to the issues involved which prompted the choice to use two voices rather than one for this work.
The fact is that Berlioz wrote the songs in
Les Nuits d'été
at different times and for different voices. When he finally published the songs as a cycle, he stated that they could be sung by either a mezzo-soprano or a tenor. The best performances I have ever heard – nearly all of them by mezzo-soprano
Susan Graham
– have been with one female voice. The exception was a superb rendition by tenor Philip Langridge. A two-voice version has been done before, however; there is a recording conducted by Boulez with a mezzo-soprano and a tenor dividing the songs and Berlioz authority Colin Davis has done the same.
Nézet-Seguin's idea was surely that since, in their original versions, some of the songs lie too high for a mezzo and too low for a soprano, why not have two singers and allocate the songs accordingly. In this performance, however, Nézet-Seguin really clouded the issue rather than clarified it. Soprano Marianne Fiset has a voice that is too heavy for most of the songs, and that of mezzo-soprano Julie Boulianne is too light. In fact, Boulianne was frequently covered by Berlioz' unusually light and transparent orchestration. In my opinion, neither singer was ideal for this music.
Soprano Marianne Fiset Charms Audience with Rachmaninov
The second half of the concert began with Rachmaninov's Do not sing, my beauty, to me Op. 4 No. 4 in an orchestration by Leonidas Leonardi and in this lovely, melancholy song soprano Marianne Fiset was in her element. She sounded Russian – excuse me, Georgian, in this case – to the core.
I liked this bit of programming. Before Mussorgsky's familiar
Pictures
,
Néget-Seguin gave us another taste of Russian "soul". It was a way of enriching a meal that was otherwise just a little predictable.
Mussorgsky's Pictures Come to Life with Superb Playing & Thrilling Brass!
Nézet-Seguin didn't do anything radical with
Pictures
, an orchestral showpiece, the primary requirement of which is superb playing. We got that in this performance! Interestingly, my most recent hearing of the piece was at Tanglewood this summer by the Boston Symphony under Peter Oundjian and the minor technical blemishes in the OM performance were almost exactly the same as those in the BSO rendering – and the conducting was equally stunning. In
Pictures
as in
La Valse
, Nézet-Seguin was somewhat handicapped by the small string section - but his musicians played their hearts out! The sound from the well-balanced brass section was thrilling, especially in the "catacombs" section.
More of Yannick Nézet-Seguin & OM in Montreal this Season
Nézet-Seguin and the OM return later in the season with performances of Mendelssohn's
Elijah
, Mahler's
Das Lied von der Erde
and Bruckner's Eighth Symphony, the latter part of a Bruckner Cycle. Nezet-Seguin/OM recordings of the Bruckner Seventh and Ninth Symphonies are available on the ATMA label.
Nézet-Seguin is already the most successful Canadian conductor ever in terms of the international appointments he holds and the number and stature of the orchestras he has already conducted, or soon will conduct. Later this season, for example, he will appear with the Boston Symphony, the Philadelphia Orchestra, the Los Angeles Philharmonic, the Chamber Orchestra of Europe and the Vienna Symphony, among others. He will make his debut at the Metropolitan Opera in 2010. To keep up with his globe-trotting, check his
website
.
Paul E. Robinson is the author of
Herbert von Karajan: the Maestro as Superstar
and
Sir Georg Solti: his Life and Music
, both available at
http://www.amazon.com/
. For more about Paul E. Robinson please visit his website at
http://www.theartoftheconductor.com/
.
Labels: Profile