W.A. Mozart: Così fan tutte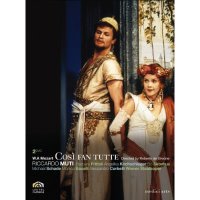 Barbara Frittoli (Fiordigili), Angelika Kirchschlager, Bo Skovhus (Guglielmo), Michael Schade (Ferrando), Monica Bacelli (Despina), Allesandro Corbelli (Don Alfonso)
Vienna State Opera Chorus and Orchestra / Riccardo Muti

Stage Director: Roberto de Simone
Video Director: Brian Large
Medici Arts 2072368 (2 DVD – 187 min)
***** $$$$
Opera on DVD went from strength to strength during the past year. There have been a number of sensational new works on the medium and chart-topping productions of standard repertory. This 1996 staging from Vienna's historic Theater an der Wien can be safely recommended as a first choice for both seasoned collectors and newcomers to the work. With an excellent cast of motivated soloists, superb conducting from Muti, marvelous sets (Mauro Carosi), gorgeous costumes (Odette Nicoletti) and musically informed stage direction, this is the version to have and to return to. In every respect it surpasses Muti's 1989 Milan performance (Opus Arte/Scala).
Così fan tutte
was the third Mozart collaboration with Lorenzo da Ponte. Like
Don Giovanni
, it is designated as a
Dramma giocoso
but the opening credits proclaim '
Opera buffa
' in the manner of
Figaro
.
Buffa
is presumably what director Roberto de Simone had in mind for this production. His
Così
presents split-second comic timing fully integrated with the score. The hapless couples (Barbara Frittoli, Angelika Kirchschlager, Bo Skovhus and our own Michael Schade) enter the fray with enthusiasm while the fulcrum of trickery and deceit is provided by Monica Bocelli and Allesandro Corbelli. The director exploits the intimate stage-frame of the Theater an der Wien while the 18th century Neapolitan landscapes of Jacob Philipp Hackert are adapted very effectively to provide sumptuous backdrops. Swift, stylish and constantly amusing, this production exemplifies the definition of opera as, "The ultimate art."
- Stephen Habington
Labels: Cosi fan tutte, dvd, mozart, product_review, Riccardo Muti