Met in HD: Lucia di Lammermoor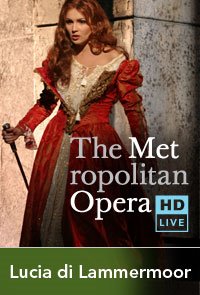 Soprano Anna Netrebko as Metropolitan Opera's Lucia di Lammermoor
(photo: Ken Howard)
The Met in HD telecast of Donizetti's
Lucia di Lammermoor
was one of the most anticipated events of this opera season. Dubbed the "Dream Pair" by the German-Austrian press, Russian soprano Anna Netrebko and Mexican tenor Rolando Villazon have captured the imagination of the opera public, to a greater degree than even the "premiere stage couple" Angela Gheorghiu and Roberto Alagna. Never mind that Netrebko and Villazon are married/attached to other people, opera buffs lapped up morsels of rumours about their potential romantic attachments, even though such rumours were likely the products of their respective publicists or overzealous recording executives! In any case, any performance starring AN and RV guarantees a sold out house. The pregnancy of Netrebko by Uruguayan baritone Erwin Schrott last year finally silenced the gossip columns. Their return to the Met this season marked her first since giving birth last September, and his first since suffering a much publicized vocal crisis. So all the stars were seemingly aligned for
the
operatic event of the season.
Alas, it came as a bitter blow to their fans that the telecast was without
Rolando, who fell victim to - officially, at least - a cold. It was well documented that at the first performance on Jan. 26, Villazon was having vocal trouble right at the start and it didn't let up. In Edgardo's dramatic outburst following the Act 2
concertato
, he could not sustain the high tessitura and stopped singing right in the middle. Conductor Marco Armiliato halted the orchestra, with the audience sitting in stunned silence for about 8 seconds. Villazon re-attacked the b-flat and managed to finish the scene. Peter Gelb came out at intermission to announce that the star tenor was not feeling well but would finish the performance. He was warmly received at the final curtain, more a sympathy vote than applause for the excellence of his vocalism. Those in attendance commented on how thin and wan Villazon looked, as if he was suffering from poor health. The second performance three nights later did not go any better. A day later, it was announced that Italian tenor Giuseppe Filanoti, who was in town to sing the Duke in
Rigoletto,
would replace Villazon. The saddest part was the news that the all-important telecast would be taken by someone else, in this case Polish tenor Piotr Beczala, who was in town to sing Lensky in
Eugene Onegin
. Beczala had previously sung the Met production with German soprano Diana Damrau, so it was not a problem for him to step at a moment's notice.
I admit arriving at the Sheppard Grande a bit disappointed at the prospect of no Rolando Villazon. But any disappointment was quickly erased the moment Beczala opened his mouth to sing. I had heard him last July in Munich as a pleasant if somewhat generic Werther. Well, as Edgardo, Beczala was spectacularly good. He sang with clarion tone, the timbre suitably Italianate, and he acted with conviction. He had excellent chemistry with Netrebko. Just to refresh my memory of him, I watched his Paris Opera Die Zauberfloete from 2001 for comparison. He sang beautifully but was too persistently loud as Tamino, so he has improved a lot over the years. His Edgardo was an altogether winning performance. As to Netrebko - having given birth just a few months earlier, she looked more zaftig than the usual Lucia. There was much nitpicking on various blogs about her singing of Lucia. Her assumption of this role in Munich Opera a couple of seasons ago was met with very lukewarm press. But I feel on this Saturday afternoon, she rose to the challenge as Lucia, singing with rich, refulgent tone, hitting all the high notes, including an excellent E-flat at the end of the Mad Scene, while ducking the first one. She can still do justice to this role, although for how much longer it is anyone's guess. The voice has gotten bigger, heavier, and less flexible. Her trill, never her forte, is no longer true, and her scale work is approximate. In a few years, I can imagine that she could be a very credible Manon Lescaut or Tosca. Interpretively that's a different story. Dramatically she is a good Lucia but not a great one. Simply put, she does not embody the character; she is too healthy-looking and not sufficiently unhinged to make you really believe her. Unlike Natalie Dessay who is utterly convincing, with Netrebko, one gets the feeling here is a soprano impersonating the mad Lucy on this particular afternoon.
The rest of the cast was strong. Polish baritone Marius Kwiecien is a youthful Enrico. He sang well although he pushed his compact-sized baritone dangerously. Also impressive was bass Ildar Abdrazakov as Raimondo. Fast-rising South African tenor Colin Lee was wasted in the small role of Arturo - let's hope he will be given bigger assignments at the Met. Only the dry and aging tenor of Michael Myers as Normanno disappointed. The atmospheric sets by Mary Zimmerman evokes the Scottish countryside. The colours are deliberately muted, recalling scenes from old English movies. Her stage direction is very middle-of-the-road and generic, nothing controversial, but just interesting enough to hold one's interest. The only misfire is to have Lucia's ghost appear at the end of the opera, physically helping Edgardo kill himself with the dagger - how hokey can you get! The host this time around was Natalie Dessay, whose English markedly improved since her last appearance, although she was hopelessly tied to her cue cards. The endlessly fascinating scene changes at intermission were almost as good as the opera itself. Marco Armiliato, now more or less a fixture at the Met, conducted stylishly if rather slowly. This Lucia, with two intermissions, stretched to almost four hours.

I was in Cinema #3 at the Sheppard Grande, and the transmission was once again near-flawless, with only a couple of split-second freezing of the picture. However, the sound coming from one of the speakers on the left wall (when facing the screen) in the middle of the cinema was distorted at high volume - it needs to be fixed before the next showing. Another problem had been the concession stand, which was always crowded and slow-moving. This time, a separate station selling regular coffee and sandwiches was set up in another location, easing the traffic greatly - kudos to the managment for listening to the customers. This is why for me the Sheppard Grande continues to be the theatre of choice when it comes to Met in HD. For those interested in catching Thais, an encore presentation is this coming Saturday. The next new show - Puccini's Madama Butterfly - is slated for March 7 at 1 pm.



Labels: Anna Netrebko, Concert_Review, Lucia di Lammermoor, Met in HD, Piotr Beczala