Knowlton Festival 2009: "Bel Canto Greatest Hits" with Young Singers from the Santa Cecilia Academy in Rome
by

Paul E. Robinson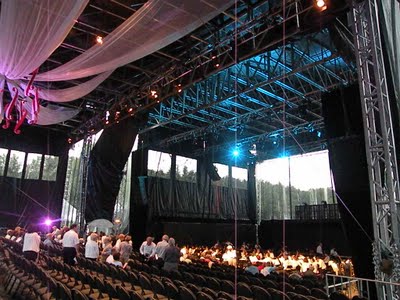 One of the unique features of the Knowlton Festival (Québec) is the collaboration with the Accademia Nazionale di Santa Cecilia (ANSC), one of Italy's leading music schools. The president of ANSC, Bruno Cagli, is involved in planning for the
Knowlton Festival
, and every year he includes performances by some of his outstanding students in the festival programme. Monday night we heard six of them accompanied by the Festival Orchestra directed by Carlo Rizzari.
The concert was a sort of "Bel Canto Greatest Hits", similar to the one presented last year by June Anderson and some ANSC students. Without a star of Anderson's stature on the bill, however, it lost some of its audience appeal. With this in mind, the festival organizers might have considered reduced ticket prices. After all, an average price of $100 a seat is a lot to pay for a concert by students - however promising – whether they are from Rome or Montréal.
Maestro Rizzari also has a connection with the ANSC. He is the assistant conductor of its orchestra. One might assume that the ANSC orchestra is a 'student orchestra' but one would be wrong. The Accademia Nazionale di Santa Cecilia Symphony Orchestra is one of the best orchestras in Italy. Its current music director is Antonio Pappano and conductors of the stature of Masur, Eschenbach, Temirkanov, Tilson Thomas and Nagano appear with it regularly. Bernstein was a frequent guest conductor and made several recordings with the orchestra.
Festival Orchestra, Rizzari & Sparkling Rossini Overtures
On this night, Rizzari was in charge of the Festival Orchestra, which had already distinguished itself in the previous night's performance of
La Sonnambula
. Most of the musicians are Québec players, but the concertmaster is Riccardo Minasi, a well-known Italian soloist and early music specialist. Minasi teaches at the Conservatorio Bellini in Palermo and, earlier this year, took up a position as associate director of the Helsinki Baroque Orchestra. Presumably, the idea of engaging Minasi was to provide expertise in the area of
bel canto
style within the orchestra. So far the results have been impressive. Last night, the orchestra again gave us long singing lines and excellent precision, accompanied the singers with exceptional sensitivity and, on its own, contributed sparkling performances of two Rossini overtures.
Singers Delight Audience with Bel Canto "Hits"
With respect to the singers, I would say that they all displayed admirable training, but not much individuality – with one notable exception. And while this programme concentrated on
bel canto
repertoire, not one of the six seemed, in my opinion, outstandingly gifted in this idiom.
The notable exception was tenor Antonio Poli (photo:
right
). This young man has a voice of extraordinary natural beauty and he uses it with remarkable elegance and maturity. Poli and baritone Pedro Josè Quiralte Gómez sang beautifully in the famous duet from Bizet's
The Pearlfishers
, and in the quartet from Verdi's
Rigoletto
, Poli really came into his element. His breath control and phrasing were outstanding and even in the loudest passages, there was never any sense of strain. I suspect that Poli will go on to a major career singing lyric roles in Mozart and early Verdi.
For the record, the other singers taking part were soprano Paola Leggeri, mezzo-soprano Anna Goryacheva and baritone Sergio Vitale. Their performances were certainly competent, but generally too studied to really come alive; for example, soprano Rosa Feola's traversal of an aria from Rossini's
La Donna del Lago.
Other interpretations were so restrained that I began to suspect the teachers at the ANSC of having actively discouraged any expression of passion or personality. It's all very well to insist on the purity of
bel canto
style but in the final analysis, what makes music come alive is the combination of discipline and individuality. There was not much of the latter on display last night.
That said, it's always a pleasure to hear young singers. This extraordinary collaboration between Knowlton and Rome is at the heart of the Knowlton Festival, and gives audiences an opportunity to hear voices trained at the Accademia Nazionale di Santa Cecilia, arguably the ultimate authority in
bel canto
style. Therein lies the excitement and the appeal of last night's concert. What will we hear? Tomorrow's stars? Possibly! The joy of discovery!
The audience that turned up last night numbered about 300 in a tent which has been filled to a capacity of 850 at previous events. If applause and standing ovations are a gauge of the success of a concert, the evening was definitely a success.
Getting to the Festival Site
If you're planning to join the music-lovers who have already discovered the Knowlton Festival, be forewarned; you'll have a bit of a challenge getting to the festival site. You'll be parking your cars in a central location in Knowlton – a big field next to the Brome Lake Duck Farm – then walking across the field to the school busses lined up to transport you (5-7 minute ride) along narrow winding gravel roads to the Chapiteau (tent) a couple of miles away. There is no parking at the site itself. For the most part, the system works well, and the Knowlton volunteers greeting and directing traffic on site are cheerful and engaging. The weather thus far has not been too problematic.
This odyssey becomes more challenging, however, if the busses are not running smoothly and if the weather is not cooperative. Last night, it poured rain and I suspect that the prospect of getting soaked on the way to the concert deterred many people from attending.
Coming Next
: Tuesday night the period music specialists ensemble, Les Violons du Roy, plays Handel, and Wednesday night pianist Stephen Kovacevich gives a recital of works by Bach, Schumann and Beethoven. For more information check the festival
website
.



Paul E. Robinson

is the author of

Herbert von Karajan: the Maestro as Superstar

,

and

Sir Georg Solti: His Life and Music

,

both available at Amazon.com.
Labels: Accademia Nazionale di Santa Cecilia, Antonio Poli, Brome Lake Duck Farm, Bruno Cagli, Carlo Rizzari, Concert_Review, Festival de Knowlton, Knowlton Festival, Knowlton Festival Orchestra, Riccardi Minasi