Simone Osborne in Recital (November 3)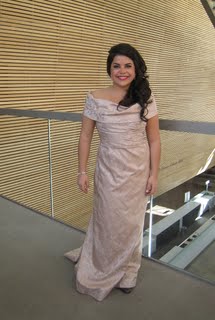 Soprano Simone Osborne after her recital at the Richard Bradshaw Amphitheatre, November 3, 2009
Photo: Venita Lok
Marilyn Horne Foundation New York Recital Preview
Richard Bradshaw Amphitheatre, Four Seasons Centre
November 3, 2009
Simone Osborne, soprano
Elizabeth Upchurch, piano
Cuatro Madrigales Amatorios by Rodrigo
De los alamos vengo, madre
Four Songs by Liszt
S'il est un charmant gazon
Three Songs by Richard Strauss
Lily and Monarch (from A Silent Awakening) by Iman Habibi
A Word on my Ear by Flanders and Swann
In March 2008, BC soprano Simone Osborne, at the tender age of 21, became one of five grand winners of the Metropolitan Opera National Council Auditions, the youngest singer to have won in the competition's history. I remember listening to the broadcast at the time, and was struck by the beauty of her voice, her innate musicality, and particularly the maturity and poise that belied her age. I interviewed her at the time for an article in the 2008 spring issue of The Music Scene. She was a journalist's dream - warm, engaging, smart, articulate, thoughtful, with a delightful sense of humour. I felt at the time that she'll have a very fine career in the years ahead. Since then, she had gone on to win more competitions, including the prestigious Marilyn Horne Foundation Vocal Competition. She is one of four new members of the Canadian Opera Company Ensemble Studio this season. She just made her COC mainstage debut in Stravinsky's short song cycle Pribaoutki as part of The Nightingale and Other Short Fables, singing these little satirical ditties with gleaming tone and excellent diction.
At yesterday's noon hour concert, Osborne gave a preview of the recital she will sing in New York, as a result of her win in the Marilyn Horne Foundation. She opened with four love songs by Rodrigo. Wearing a lovely concert gown (see photo), she looked every inch the diva, with stage presence to burn. The Rodrigo songs were delivered with rich, opulent tone and strong communicative power - this singer has something to say to the audience! Her facial expressions alone communicated the meaning of the text - this is an ability that only some singers are blessed with, and it is an important asset for a recitalist. The voice has gained in size, power and solidity, with a new warmth and solidity in the middle register. At the Met Auditions, I thought she sounded more like a soubrette, but in the interim year and a half, her sound has gotten fuller and more substantial - I think she is developing into a full lyric. The four Liszt songs were delivered with silvery tone and full attention to textual nuance. Given her big voice and powerful stage presence, she has a tendency to sing operatically, making a big sound. Some people might prefer a more understated delivery, but this is definitely not the Osborne style! In any case, the Liszt Petrarch Songs are quite operatic to begin with and a big voice and dramatic interpretation is entirely appropriate. Her 'Oh! quand je dors' was lovely. My favourite part of her program was the Strauss songs. 'Allerseelen' requires seamless legato and long breath line which Osborne delivered. For me, the highlight of the concert was 'Cacilie', with its ecstatic, ever-expansive musical lines, which Osborne sang with power and resplendent tone.
The penultimate piece, 'Lily and Monarch' was a work the singer had commissioned from composer Iman Habbibi, based on poetry Osborne's grandfather wrote to her grandmother. The poem of unrequited love was exquisitely sung and with genuine depth of feeling by Osborne. There are two short verses in the song sung in, I believe, Farsi. (Osborne is part Iranian by heritage) Throughout, pianist Liz Upchurch was a most sensitive and supportive recital partner. The last piece on the program was 'A Word on my Ear', a funny song about an opera diva by Flanders and Swann. This is a real showstopper and great fun. I last heard it sung - wonderfully - by the British soprano Elizabeth Connell about ten years ago, and I was so looking forward to Osborne's rendition. Alas it was not to be. A minute into the song, there was a commotion in the audience. Apparently someone had either had a seizure or a heart attack. Osborne handled the situation perfectly - stopping the concert was definitely the right thing to do. Sadly I won't get to hear her treatment of the Flanders and Swann, but I am sure there will be other occasions. All in all, it was a highly auspicious recital debut for Ms. Osborne. She will be singing Ilia in the COC Ensemble performance of Idomeneo next May - mark your calendar!
Labels: Concert_Review, Simone Osborne