Get Ready for an exciting 2009-10 Met Live in HD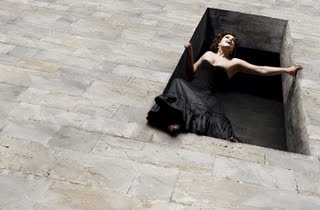 Karita Mattila as Tosca ready to jump to her death in Puccini's perennial favorite that opens the 2009-10 Met in HD Season (Photo courtesy of Metropolitan Opera)
While Canadians lament the end of summer and warm weather, we welcome the start of the much anticipated musical season. Now in its fourth year, the Met in HD has become a Saturday ritual for many of us. To be able to sample the best the Met has to offer, in air-conditioned comfort at a Cineplex theatre near you is something that opera lovers could only dream about a few short years ago. I have been attending these shows since The Magic Flute in its first season. This season, for the first time, patrons can purchase *reserved seats* in advance. This is a huge improvment. You no longer have to wait in line an hour ahead of time to get your desired seats. As I understand, since the tickets went on sale last week, business has been extremely brisk. Be sure to secure your seats before they are all gone. Here is the press release sent to me by Cineplex Entertainment with the details of the shows and the locations.
********************************************************
Escape to the Ultimate Stage Spectacle The Met: Live in HD at Select Cineplex Entertainment Theatres
Advance tickets for 2009-10 series available Friday, August 21st
Toronto, ON (CGX.UN) – August 19, 2009 – Cineplex Entertainment is showcasing another great season of opera! Now in its fourth season, the wildly popular and award-winning The Met: Live in HDseries continues with nine live opera performances for the 2009-10 season. Shown in High Definition and Digital Surround Sound, all nine performances start at 1 pm EST beginning with Puccini's Toscaon Saturday, October 10, 2009 and, for the first time, guests will be able to enjoy reserved seating at select Cineplex Entertainment theatres

.
"We are pleased to have The Met: Live in HD series return for a fourth season to Cineplex Entertainment theatres across the country. The series has captivated our guests and their interest continues to grow with the performances becoming a familiar ritual on Saturday afternoons at our theatres," said Pat Marshall, Vice-President, Communications and Investor Relations, Cineplex Entertainment. "This year, we have once again expanded the number of theatre locations by 10 per cent and, for the first time ever, added reserved seating at select locations as an added convenience for our guests to experience world class opera."
Beginning Friday, September 4th individual tickets are available online at www.cineplex.com/events as well as at participating theatre box offices. Admission prices vary by location. SCENE and Met Opera members enjoy priority access with an exclusive advance ticket window for the 2009-10 series beginning Friday, August 21st at participating theatre box offices. Membership in the SCENE program is free and guests can apply online at www.scene.ca. For information on The Met Opera in New York or to obtain tickets or membership information, visit www.metopera.org/hdlive or call 1-800-Met-Opera (1-800-638-6737).
Season tickets can be purchased in person only at any of the participating theatres. Guests that purchase season tickets for all nine performances will receive a 15% discount off the purchase price, a 10% discount when purchasing tickets to any five or more performances and a 5% discount when purchasing tickets to any three or more performances. A special group rate is also available for groups of 20 or more. For more information on group rates, call 1-800-313-4461 or emailcorporatesales@cineplex.com.
Beginning Saturday, October 10th, the following performances will be shown live from New York at 1 pm EST at select Cineplex Entertainment theatres:
Saturday, October 10, 2009: TOSCA
– Director James Levine, who conducts this new production of Puccini's Tosca, tells the story of three people – a famous opera singer, a free-thinking painter and a sadistic chief of police – caught in a net of love and politics. Soprano Karita Matilla sings the title role for the first time outside her native Finland, Marcelo Ấlvarez as Cavaradossi and Juha Uusitalo as Scarpia.
Saturday, October 24, 2009: AIDA
–
Set in ancient Egypt, Verdi's Aida is both a heartbreaking love story and an epic drama full of spectacular crowd scenes. Violeta Urmana stars in the title role of the enslaved Ethiopian princess, with Dolora Zajick as her rival. Johan Botha plays Radamès, commander of the Egyptian army and Daniele Gatti conducts. Among the score's highlights is the celebrated Triumphal March.
Saturday, November 7, 2009: TURANDOT
–
Director Franco Zeffirelli's breathtaking production of Puccini's last opera is a favourite of the Met repertoire. Maria Guleghina plays the ruthless Chinese princess of the title, whose hatred of men is so strong that she has all suitors who can't solve her riddles beheaded. Marcello Giordani sings Calàf, the unknown prince who eventually wins her love and whose solos include the famous "Nessun dorma".
Saturday, December 19, 2009: LES CONTES D'HOFFMANN
– Offenbach's fictionalized take on the life and loves of the German romantic writer E.T.A Hoffmann is a fascinating psychological journey. Met Music Director James Levine conducts a stellar cast including Anna Netrebko as the tragic Antonia, Kate Lindsey as the ambiguous Nicklausse and Alan Held as the demonic four villains.
Tony Award winner Bartlett Sher directs this new production.
Saturday, January 9, 2010: DER ROSENKAVALIER
–
Strauss's comic masterpiece of love and intrigue in 18th-century Vienna stars Renée Fleming as the aristocratic Marschallin and Susan Graham in the trouser role of her young lover. Music Director James Levine conducts a cast that also includes Kristinn Sigmundsson and Thomas Allen.
Saturday, January 16, 2010: CARMEN

–

One of the most popular operas of all time, Carmen "is about sex, violence and racism – and its corollary: freedom," says Olivier Award-winning director Richard Eyre about his new production of Bizet's drama.

Elīna Garanča

plays the seductive gypsy of the title in her role debut, opposite Roberto Alagna as the obsessed Don José.
Saturday, February 6, 2010: SIMON BOCCANEGRA
–
Four decades into a legendary Met career, tenor Plácido Domingo makes history singing the title role in Verdi's gripping political thriller, which is written for a baritone. Adrianne Pieczonka, Marcello Giordani and James Morris are his co-stars in this moving and tragic story of a father and his lost daughter. James Levine conducts.
Saturday, March 27, 2010: HAMLET
–
Simon Keenlyside and Natalis Dessay bring their extraordinary acting and singing skills to two of the Bard's most unforgettable characters in this new production of Ambroise Thomas's Hamlet. For the role of Ophelia, the French composer created an extended mad scene that is among the greatest in opera.
Saturday, May 1, 2010: ARMIDA
–
This mythical story of a sorceress who enthralls men in her island prison has inspired operatic settings by a multitude of composers. Renée Fleming stars in the title role of Rossini's version, opposite no fewer than six tenors. Tony Award winner Mary Zimmerman returns to direct this new production of a work she describes as "a buried treasure, a box of jewels".
Cineplex Entertainment will also be showing encore presentations at select theatre locations at 1 pm EST for guests who may not be able to attend the live transmission or who simply want to watch it again. The encore presentation schedule is as follows:
Saturday, October 31, 2009 – Puccini's Tosca
Saturday, November 21, 2009 – Verdi's Aida
Saturday, December 5, 2009 – Puccini's Turandot
Saturday, January 23, 2010 – Offenbach's Les Contes d'Hoffmann
Saturday, March 6, 2010 – Strauss's Der Rosenkavalier
Saturday, March 13, 2010 & Sunday, April 11, 2010 – Bizet's Carmen
Saturday, March 20, 2010 – Verdi's Simon Boccanegra
Saturday, April 24, 2010 – Thomas's Hamlet
Saturday, May 22, 2010 – Rossini's Armida
Cineplex Entertainment will present The Met: Live in HD at the following select theatres throughout Canada:
BRITISH COLUMBIA
SilverCity Coquitlam Cinemas (Reserved Seating)
170 Schoolhouse Street
Coquitlam, BC

SilverCity Riverport Cinemas
(Reserved Seating)
14211 Entertainment Way
Richmond, BC

SilverCity Victoria Cinemas
(Reserved Seating)
3130 Tillicum Road
Victoria, BC
Scotiabank Theatre Vancouver
(Reserved Seating)
900 Burrard Street
Vancouver, BC

Galaxy Cinemas Nanaimo
213-4750 Rutherford Road
Nanaimo, BC

Cineplex Odeon Park & Tilford Cinemas (Reserved Seating)
200-333 Brooksbank Avenue
North Vancouver, BC

Colossus Langley Cinemas
(Reserved Seating)
20090 91A Avenue
Langley, BC

Famous Players 7 Cinemas
2306 Highway 6
Vernon, BC

Famous Players 6 Cinemas
172-1600 Fifth Avenue
Prince George, BC

Famous Players Orchard Plaza Cinemas
160-1876 Cooper Road
Kelowna, BC

Cineplex Odeon Aberdeen Mall Cinemas
700-1320 Trans Canada Highway
Kamloops, BC

SilverCity Mission Cinemas
32555 London Avenue
Mission, BC

Cineplex Odeon Victoria Cinemas (Reserved Seating)
780 Yates Avenue
Victoria, BC


ALBERTA
Scotiabank Theatre Chinook
6455 Macleod Trail SW
Calgary, AB

Galaxy Cinemas Red Deer
357-37400 Highway #2
Red Deer, AB

Cineplex Odeon South Edmonton Cinemas
1525-99th Street NW
Edmonton, AB

Cineplex Odeon North Edmonton Cinemas
14231 137th Avenue NW
Edmonton, AB

Scotiabank Theatre Edmonton
8882-170 Street
Edmonton, AB

Galaxy Cinemas Lethbridge
501-1st Avenue SW
Lethbridge, AB

Galaxy Cinemas Medicine Hat
3292 Dunmore Road SE
Medicine Hat, AB

Cineplex Odeon Eau Claire Marketplace Cinemas
90-200 Barclay Parade SW
Calgary, AB

Famous Players Westhills Cinemas
165 Stewart Green SW
Calgary, AB
Cineplex Odeon Grand Prairie Cinemas
10330-109th Street
Grand Prairie, AB

Cineplex Odeon Crowfoot Crossing Cinemas
91 Crowfoot Terrace NW
Calgary, AB

SASKATCHEWAN
Galaxy Cinemas Regina
420 McCarthy Boulevard N
Regina, SK

Galaxy Cinemas Moose Jaw (NEW)
1235 Main Street N
Moose Jaw, SK

MANITOBA


SilverCity Polo Park Cinemas
817 St. James Street
Winnipeg, MB


Galaxy Cinemas Saskatoon
347 2nd Avenue
Saskatoon, SK






SilverCity St. Vital Cinemas
160-1255 St. Mary's Road
Winnipeg, MB

ONTARIO
Scotiabank Theatre Toronto
(Reserved Seating)
259 Richmond Street W
Toronto, ON

Cineplex Odeon Queensway Cinemas (Reserved Seating)
1025 The Queensway
Etobicoke, ON

SilverCity Yonge-Eglinton Cinemas (Reserved Seating)
2300 Yonge Street
Toronto, ON

Cineplex Odeon Sheppard Grande Cinemas (Reserved Seating)
4861 Yonge Street
Toronto, ON

Alliance Atlantis Beaches Cinemas
1651 Queen Street East
Toronto, ON
Colossus Vaughan Cinemas
(Reserved Seating)
3555 Highway 7 W
Woodbridge, ON

Coliseum Scarborough Cinemas (Reserved Seating)
300 Borough Drive
Scarborough, ON


Coliseum Mississauga Cinemas (Reserved Seating)
309 Rathburn Road W
Mississauga, ON

SilverCity Brampton Cinemas
50 Great Lakes Drive
Brampton, ON

SilverCity Richmond Hill Cinemas (Reserved Seating)
8725 Yonge Street
Richmond Hill, ON

SilverCity Fairview Mall Cinemas (Reserved Seating)
1800 Sheppard Avenue E
Toronto, ON

Cineplex Odeon First Markham Place Cinemas (NEW)
3275 Highway 7
Markham, ON

Cineplex Odeon Aurora Cinemas (NEW)
15460 Bayview Avenue
Aurora, ON

SilverCity Newmarket Cinemas
18151 Yonge Street
Newmarket, ON


Cineplex Odeon Niagara Square Cinemas
7555 Montrose Road
Niagara Falls, ON

Cineplex Odeon Oshawa Cinemas
1351 Grandview Street N
Oshawa, ON

Cineplex Odeon Gardiners Road Cinemas (Reserved Seating)
626 Gardiners Road
Kingston, ON
SilverCity Sudbury Cinemas
355 Barrydowne Road
Sudbury, ON


Galaxy Cinemas Barrie
72 Commerce Park Drive
Barrie, ON

Galaxy Cinemas Cornwall
1325 Second Street E
Cornwall, ON

Galaxy Cinemas North Bay
300 Lakeshore Drive
North Bay, ON

Galaxy Cinemas Midland
9226 County Road 93
Midland, ON

Galaxy Cinemas Brockville
2399 Parkedale Avenue
Brockville, ON

Galaxy Cinemas Owen Sound
1020 10th Street
Owen Sound, ON

Cineplex Odeon Ajax Cinemas (NEW)
248 Kingston Road
Ajax, ON

Galaxy Cinemas Peterborough
320 Water Street
Peterborough, ON

Galaxy Cinemas Sault Ste. Marie
293 Bay Street
Sault Ste. Marie, ON

Galaxy Cinemas Orillia (NEW)
865 West Ridge Boulevard
Orillia, ON

Famous Players Belleville 8 Cinemas
160 Bell Boulevard
Belleville, ON

Cineplex Odeon Devonshire Mall Cinemas
3100 Howard Avenue
Windsor, ON

Galaxy Cinemas St. Thomas
417 Wellington Street
St. Thomas, ON

Galaxy Cinemas Orangeville
85 Fifth Avenue
Orangeville, ON

SilverCity Oakville Cinemas
(Reserved Seating)
3531 Wyecroft Road
Oakville, ON

Galaxy Cinemas Collingwood
6 Mountain Road
Collingwood, ON

SilverCity Burlington Cinemas (Reserved Seating)
1250 Brant Street
Burlington, ON

SilverCity London Cinemas
(Reserved Seating)
1680 Richmond Street
London, ON

SilverCity Thunder Bay Cinemas
850 North May Street
Thunder Bay, ON

Cineplex Odeon Barrhaven Cinemas (NEW)
131 Riocan Avenue
Barrhaven, ON

Coliseum Ottawa Cinemas
(Reserved Seating)
3090 Carling Avenue
Ottawa, ON

Cineplex Odeon South Keys Cinemas (Reserved Seating)
2214 Bank Street
Ottawa, ON

Galaxy Cinemas Waterloo
550 King Street N
Waterloo, ON

Galaxy Cinemas Cambridge
355 Hespeler Road
Cambridge, ON

Galaxy Cinemas Guelph
485 Woodlawn Road W
Guelph, ON


Galaxy Cinemas Milton (NEW)
1175 Maple Avenue
Milton, ON

SilverCity Hamilton Mountain Cinemas(NEW)
795 Paramount Drive
Stoney Creek, ON

Cineplex Odeon Westmount & VIP Cinemas (NEW) (Reserved Seating)
755 Wonderland Road S
London, ON

Galaxy Cinemas Brantford
300 King George Road
Brantford, ON

SilverCity Ancaster Cinemas
771 Golf Links Road
Ancaster, ON


Famous Players Lambton 9 Cinemas
1450 London Road
Sarnia, ON


SilverCity Gloucester Cinemas
(Reserved Seating)
2385 City Park Drive
Gloucester, ON

QUEBEC
Cineplex Odeon Brossard Cinemas (Reserved Seating)
9350 boul. Leduc
Brossard, QC

Cineplex Odeon Ste. Foy Cinemas (Reserved Seating)
1200 boul. Duplessis
Ste. Foy, QC

Colossus Laval Cinemas
(Reserved Seating)
2800 rue Cosmodôme
Laval, QC
Scotiabank Theatre Montreal
(Reserved Seating)
977 rue Ste-Catherine O
Montreal, QC

Coliseum Kirkland Cinemas
(Reserved Seating)
3200 rue Jean Yves
Kirkland, QC


Galaxy Cinemas Victoriaville
1121 Jutras Est
Victoriaville, QC


Starcité Montreal Cinemas
(Reserved Seating)
4825 ave. Pierre de Coubertin
Montreal, QC


Galaxy Cinemas Sherbrooke
4204 rue Bertrand
Rock Forest, QC

Cineplex Odeon Beauport Cinemas (Reserved Seating)
825 rue Clemenceau
Beauport, QC



Cineplex Odeon Latin Quarter Cinemas (Reserved Seating)
350 rue Emery
Montreal, QC

Gatineau 9 Cinemas
120 boul. de l'Hôpital
Gatineau, QC

Cineplex Odeon Boucherville Cinemas
20 boul. de Montagne
Boucherville, QC




Galaxy Cinemas Fleur-de-Lys
4520 boul. des Récollets
Trois Rivieres, QC
















OTHER LOCATIONS
Lux Cinema Landmark
229 Bear Street
Banff, AB

Max Cameron Theatre
5400 Marine Avenue
Powell River, BC

Art Spring
100 Jackson Avenue
Salt Spring Island, BC

Rene M. Caisse Theatre
100 Clearbrook Trail
Bracebridge, ON

Capitol Theatre
20 Queen Street
Port Hope, ON

Cinema Elysée
160 rue Simonds nord
Granby, QC

Carrefour 10
220 rue Beaudry Nord
Joliette, QC

Carrefour du Nord St-Jérôme
900 rue Grignon
St-Jérôme, QC

Cinema Jonquiere
2445, rue St-Dominique
Jonquiere, QC

Cinema St-Laurent
8333 rue Industrielle
Sorel-Tracey, QC

Rialto Landmark
2655 Cliffe Avenue
Courtenay, BC

Pen Mar Centre Landmark
361 Martin Street
Penticton, BC

Salmar Classic Theatre
360 Alexander Street
Salmon Arm, BC

Raven's Cry Theatre
5559 Sunshine Coast Highway
Sechelt, BC

Regent
224 Main Street
Picton, ON

Capitol Theatre
4920 – 52nd Street
Yellowknife, NWT

RGFM Drummondville
755 rue Hains
Drummondville, QC

Cinema Pine
24, rue Morin
Sainte-Adèle, QC

Cinema St. Eustache
305 Avenue Mathers
St. Eustache, QC

Cinema Triomphe
1100, rue Yves-Blais
Lachenaie, QC
For a list of theatre locations showing the encore performances, visit www.cineplex.com/events.
About The Met
Under the leadership of General Manager Peter Gelb and Music Director James Levine, the Met has a series of bold initiatives underway that are designed to broaden its audience and revitalize the company's repertory. The Met has made a commitment to presenting modern masterpieces alongside the classic repertory, with highly theatrical productions featuring the greatest opera stars in the world.
The Met's 2009-10 season features eight new productions, four of which are Met premieres: Janáček'sFrom the House of the Dead, Verdi's Attila, Shostakovich's The Nose, and Rossini's Armida. The other new productions are Puccini's Tosca, Offenbach's Les Contes d'Hoffmann, Bizet's Carmen, and Thomas's Hamlet.
Building on its 78-year-old international radio broadcast history – heard over the Toll Brothers-Metropolitan Opera International Radio Network – the Met uses advanced media distribution platforms and state-of-the-art technology to reach audiences around the world.
The Emmy and Peabody Award-winning The Met: Live in HD series returns for its fourth season in 2009-10 with nine transmissions, beginning October 10 with Tosca starring Karita Mattila and ending with Armida starring Renée Fleming on May 1. The Met recently introduced Met Player, a new subscription service that makes much of its extensive video and audio catalog of full-length performances available to the public for the first time online, and in exceptional, state-of-the-art quality. Metropolitan Opera Radio on SIRIUS XM Radio broadcasts both live and rare historical performances; the Met on Rhapsody on-demand service offers audio recordings; and the Met presents free live audio streaming of performances on its website once every week during the opera season with support from RealNetworks®.
The Met has launched several audience development initiatives, including Open House dress rehearsals, a popular rush ticket program, reduced ticket prices, Gallery Met, and an annual Holiday Series presentation for families. For more information, please visit: www.metopera.org.
About Cineplex Entertainment
As the largest motion picture exhibitor in Canada, Cineplex Entertainment LP owns, leases or has a joint-venture interest in 129 theatres with 1,328 screens serving more than 63.5 million guests annually. Headquartered in Toronto, Canada, Cineplex Entertainment operates theatres from British Columbia to Quebec and is the largest exhibitor of digital, 3D and IMAX projection technologies in the country. Proudly Canadian and with a workforce of more than 10,000 employees, the company operates the following top tier brands: Cineplex Odeon, Galaxy, Famous Players, Colossus, Coliseum, SilverCity, Cinema City and Scotiabank Theatres. The units of Cineplex Galaxy Income Fund, which owns approximately 99.6% of Cineplex Entertainment LP, are traded on the Toronto Stock Exchange (symbol CGX.UN). For more information, visit
www.cineplex.com
.
For more information, please contact:
Pat Marshall

Georgia

Sourtzis
Vice President, Communications

Manager, Communications
and Investor Relations Cineplex Entertainment
Cineplex Entertainment

416-323-6728
416.323.6648

georgia

.

sourtzis

@cineplex.com
pat.marshall@cineplex.com