This Week in Montréal: December 21 to 27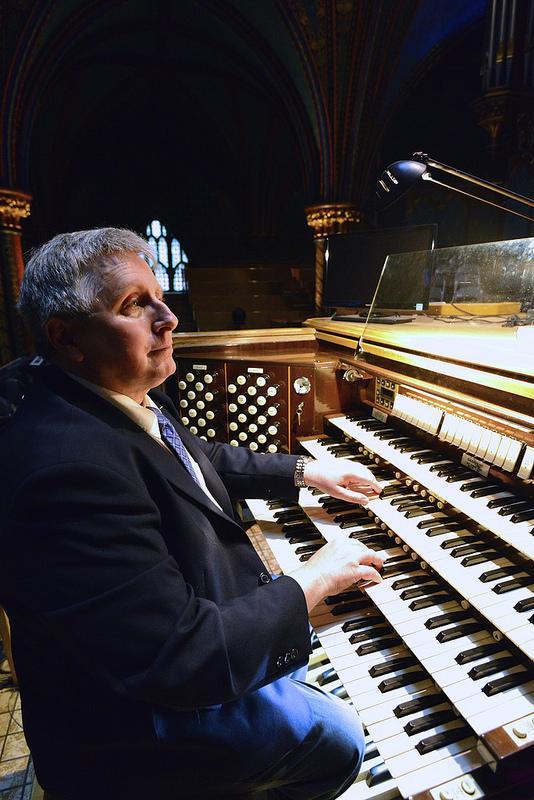 Pierre Grandmaison at the organ
Oragn at St. Joseph's Oratory

All Montrealers have seen the oratory dome from afar. But how many have actually been inside? They'd find a splendid Beckerath organ inaugurated in 1960 that has five keyboards, 78 stops and 5,811 pipes. On Sunday afternoons you can hear a free concert at 3:30 pm, with an accompanying screening. For the holidays, the series Noël à l'orgue will present Noël romantique with Julie Pinsonneault on December 27, and on January 3, Noël français with Jean-Michel Grondin.
www.saint-joseph.org
Organ at Notre-Dame Basilica

In 2016, the Casavant organ in Notre-Dame will be 125 years old. With its 92 stops, it's one of the largest in any North American church. Every Sunday the "Florilèges de l'orgue liturgique", musical anthologies played by principal organist Pierre Grandmaison or assistant organist Martin Boucher, take place from 10:30 to 10:55, just before Mass. From December 27 to 31 at 2:30 pm, Pierre Grandmaison will play a concert entitled "Prenez place à l'orgue – Spécial Noël" to an audience seated in the gallery. Only 60 places are available, so we recommend you reserve.
www.basiliquenotredame.ca
Luminothérapie – December 10 to January 31
In Montréal, visual arts are a large part of the city's personality and way of life. The city is flush with art expositions all year long, most of which are free. To make up for the short winter days and brighten up the long winter nights, check out Luminothérapie, an interactive, colourful, and hypnotic festival of light, and best of all – it's free! A great activity to share with friends and family. www.quartierdesspectacles.com
Visual Arts in Montréal
A
t the Montreal Museum of Fine Arts, discover a long unknown part of Canadian and Montréalaise history with the exhibition "Une modernité des années 1920" about the artists of the Beaver Hall Group, on display until January 31 2016.
www.mbam.qc.ca

Until January 10 2016 the Musée d'art contemporain (MAC) is hosting an exhibition on the career of American artists Dana Schutz, whose work in the last ten years has had a profound impact on contemporary painting. Drawing on the avant-garde movements of the early 20th century, synthetic cubism, and German expressionism, Schutz's very colourful art is a fusion of figuration and abstraction.
www.macm.org
Also at the MAC is Grosse Fatigue, a 13-minute long video installation by Camille Henrot, winner of the Silver Lion for promising young artists at the Venice Biennale 2013. This French artist presents a history of the universe combining elements from the history of science to stories about the creation of the world from various traditions and cultures.
Until January 10 Patrick Bernatchez will present an exhibition about works taken from two main collections of his repertoire, Chrysalides and Lost in Time. The public will discover the essence of his work, which deals with issues of life and death, decomposition, entropy, and the four seasons as well as the multiple dimensions of time.
www.macm.org
Until April 10 2016 see the exhibition "Montreal through the eyes of Vittorio: 50 Years of City Life and Graphic Design" at the McCord Museum. This exhibition deals with Italian-born artist Vittorio Fiorucci, whose career spanned 50 years. Arriving in Montreal in 1951, there he discovered his vocation through comic books, photography, decoupage and collages. Through the career of this humoristic creator the exhibition traces the cultural history of Quebec from the 1950s to the 2000s through 125 posters, photographs, illustrations and comic strips.
www.mccord-museum.qc.ca
Need an idea for something to do with children between 3 and 9? Take them to see Mister Rabbit's Circus at the McCord Museum.

In this exhibition, inspired by the best-selling Mister Rabbit books (published by Les 400 coups), children will be able to follow an investigation to find the missing circus equipment on opening night and in doing so discover the 200 toys and objects in the museum's collections.
www.mccord-museum.qc.ca
Labels: Christmas, MBAM, organ, Preview, visual arts